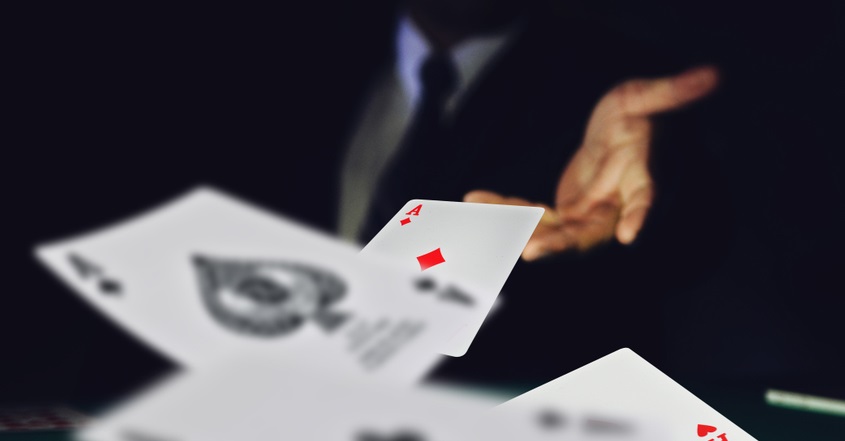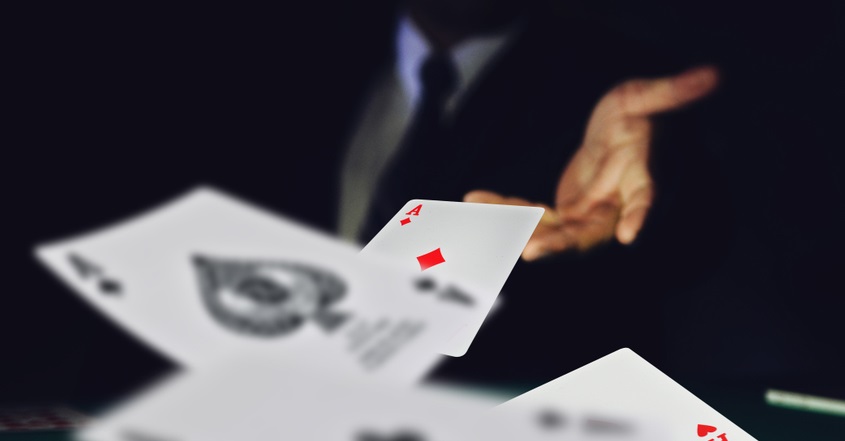 When it comes to working your way through a casino floor, there's very little more tempting than the call of the blackjack table.
It's one of Sin City's very best games and with easy-to-pick-up rules, simple gameplay and sexy reputation, it's also one of the most popular.
It's even made appearances throughout Hollywood in '21', 'Holy Rollers', 'The Hangover' and, of course, 'Rain Man'.
It really is a game is known to make even the most gambling-conservative of individuals fancy a flutter from time to time.
All you've got to do is aim for 21, beat the dealer and avoid going bust and you're off to a winning start. It's no wonder it's so widely loved.
If you haven't booked your flights to fabulous Las Vegas to indulge in a couple of games in the near future, you'll be glad to know that you can play your favorite Vegas Strip Blackjack online, from the comfort of your own home.
It sure beats Las Vegas for convenience, that's for sure.
So what exactly should you know about the online game and where should you play if you're looking for the very best deals in Vegas Strip Blackjack?
How to play Vegas Strip Blackjack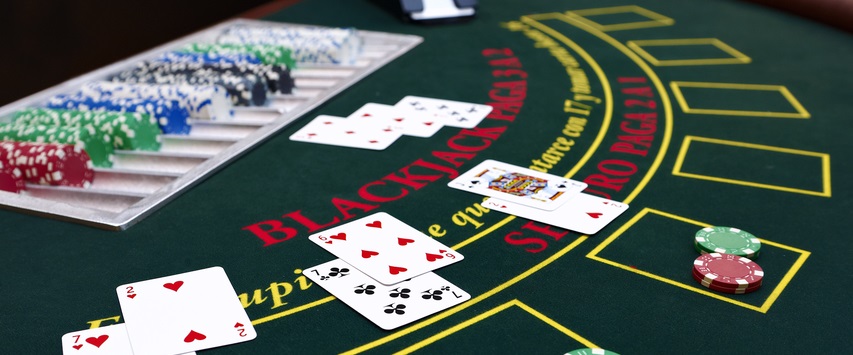 The first thing you're going to need to know when heading into a Vegas Strip Blackjack lobby is how to play the game.
Vegas Strip Blackjack is very similar to the classic game, with some very small differences that you'll quickly pick up if you've ever played the standard game.
It's nothing major, you'll no longer have the ability to surrender and you will only be playing with 4 decks of cards. There are also some small caveats when splitting a hand (more on that soon).
In case you are not familiar with the rules, the games start with a virtual dealer working clockwise around the table, dealing 2 cards to each player and 2 to him/herself.
It's then down to the player to make decisions based on their current hand to aim for 21, beat the dealer and avoid going bust.
A player will win the hand when their cards total a higher value than that of the dealer, but lower than the magic total of 21.
There are a few key terms you will want to know before you start wagering, namely the options that you have when seated at the table.
Thankfully, we can lay off any blackjack etiquette when we're playing online, so there are no clever hand signals to note, just the core options and decisions of Vegas Strip Blackjack.
What are your options when playing Vegas Strip Blackjack?
By now you know that you'll need to try and make 21 without going over that number and that you want to beat the dealer with the largest number taking the win.
How you get there isn't just a case of screaming 'hit' until you're making a number you're happy with.
There are a couple of options from which you will have to choose that will decide how your hand is built and the totals that you can reach.
When playing Vegas Strip Blackjack you'll have the option to stand, hit, double down or split.
What do these terms mean and when is the best time to opt for each game-changing decision?
Hit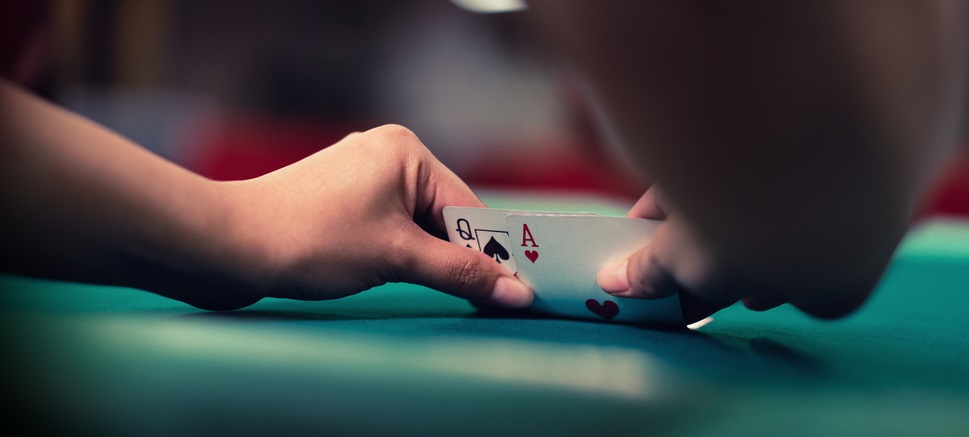 If you want another card added to your hand, you will want to be 'hit' during your turn. Whatever card you receive is added onto the total that you have, but be careful, exceed 21 and you're out.
Stand
To 'stand' on your turn means to stick with the hand that you're currently holding and that you don't want another to add to the total. A stand is usually reserved for hands where the total is approaching 21 to avoid going 'bust'.
Surrender
To 'surrender' a hand means to forfeit the hand immediately, providing that it is permitted by the chosen provider of Vegas Strip Blackjack.
There's a method behind the madness of throwing in the towel early and for opting-out prematurely you'll usually receive half of your bet back.
However, when playing Vegas Strip Blackjack, you won't be able to surrender your cards and will, unfortunately, have to sit through your potential losing hands.
Double down
When 'doubling down' during a turn, players have the option to double the original bet in exchange for a single drawcard.
You'll likely only be able to double down once after receiving your first two cards (no matter what they are) and before drawing another card so it pays to be careful and think it through.
Split
For a player to 'split' during their turn, they must first be dealt two equally ranked cards for their first 2 cards e.g. a pair of 8's.
When a player splits, they must then make another wager of equal value to the original, allowing both cards to be played as separate hands.
You'll be able to split any pair in Vegas Strip Blackjack as well as unlike cards valued at 10 (e.g. Queen and 10).
All pairs, bar Aces, can be a second time to allow for 4 total hands in play (depending on provider), but Aces can only be split once.
Note: Hitting 21 when splitting aces does not count as a blackjack so it's often in the best interest to avoid that option.
Specific Vegas Strip Blackjack rules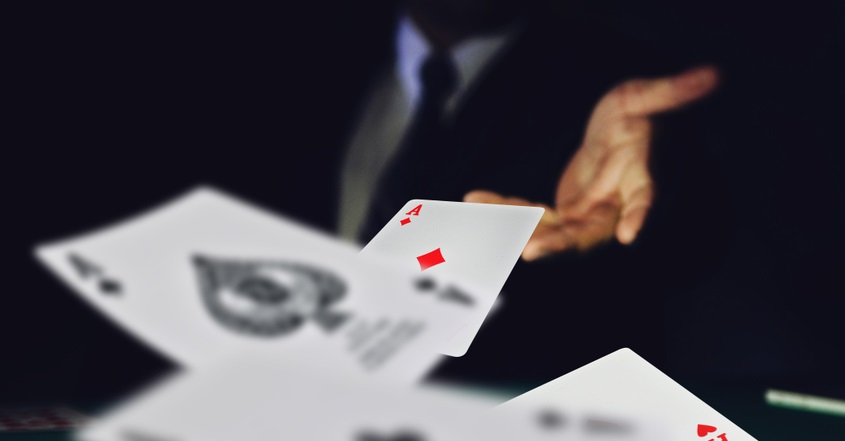 Regardless of the provider you opt for when playing Vegas Strip Blackjack, there is a selection of rules that you'll see across the board for all games.
Number of decks
When playing Vegas Strip Blackjack online, a total of 4 decks will be used and reshuffled following the end of each hand.
Payout odds
The typical Vegas Strip Blackjack payout will be fixed at 3 to 2, although some tables offer payouts of 6 to 5. These should naturally be avoided.
Whenever the dealer shows an Ace, players are offered the chance to insure their hands in the event that a dealer completes a 'natural' (Ace + Face Card). Winning insurance bets will often payout 2 to 1.
Dealer stands and peeks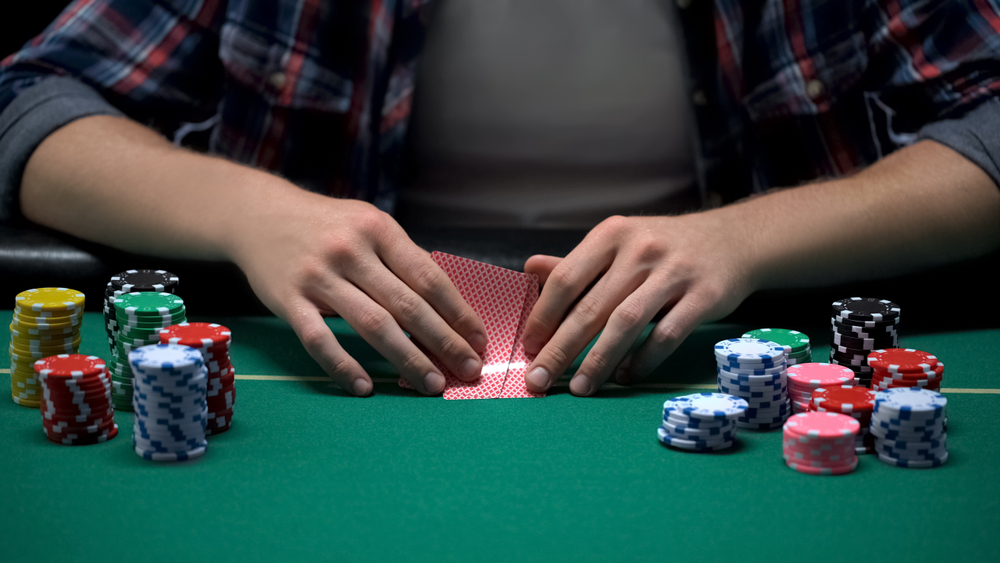 The dealer is programmed to stand when reaching any value of 17, including the soft 17 (hand of value 17 including an Ace of 11).
The dealer will also peek for blackjack when the face-up cards are 10's and Ace.
The house edge
Vegas Strip Blackjack is considered to have one of the lowest house edges in any casino game and the second-lowest blackjack house edge, second only to classic blackjack.
You should expect to be playing with a house edge of just 0.35% when gaming online.
In order to ensure the very best odds are in your favor, it's suggested that games offering a 6 to 5 payout are to be avoided and insurance is opted-out of when playing against the dealer.
With one of the lowest house's edge throughout all casino games, it's definitely the game for those of us that like to win a little more than we like to lose.
Where to play Vegas Strip Blackjack
When deciding on an online casino to play Vegas Strip Blackjack, you'll find two main providers with a couple of minor differences that you're able to choose from in NYX and Microgaming.
NYX Vegas Strip Blackjack
The first of the game providers from which you are able to pick is the fantastic software from NYX, one of the companies involved with the recent rollout of live video blackjack.
Graphics and audio
The interface greets you with lightning speed, despite some small delays after pressing deal, but it's something we can live with for such good gameplay.
As with most card and table games that we're seeing online, the graphics are a little dated, but it's nothing that should distract you from the quality of the game. It may be simple, but it's super effective.
Wagering options
There are great betting options, too, with players able to stake anywhere between $5 to $100 per single hand and up to $500 per round.
This should be perfect for the majority of us, but if you want lower limits to get your feet wet in the world of blackjack, it's a good idea to check the Microgaming equivalent with the slightly lower $1 minimum wagers per hand.
Automatic play
If you're unfamiliar with the basic strategy of blackjack, a handy feature that is part of the NYX game is the ability to simply activate the auto-strategy feature for the mathematically correct decisions to be made for you.
Granted this may take a little away from the gaming experience by making the game the focus of chance rather than statistics, but it's hard to argue that this is not a great tool for picking up the correct strategy before going out on your own.
Microgaming Vegas Strip Blackjack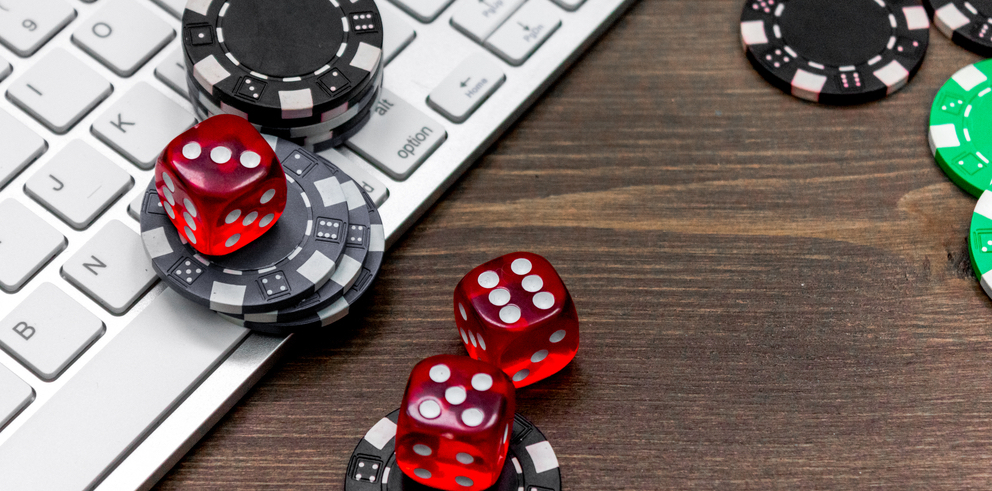 The second, and more popular option when it comes to playing Vegas Strip Blackjack online comes from Microgaming, welcoming players of all experience levels with a user-friendly interface and hassle-free gaming.
Graphics and audio
Log into a lobby and you'll find the graphics leaving a little to be desired if you're used to the flashier casino games and cutting edge slots.
Granted, there's not a huge amount that can be done when developing the graphics of a card-based game, but the overall design isn't exactly jaw-dropping and does leave a little to be desired.
The graphics are not poor enough to frustrate you or limit your enjoyment, but this element could definitely do with a refresher.
The audio in the system is absolutely fantastic, with satisfying card noises, dealer announcements and soothing piano music to keep you calm so you avoid making reckless betting following not-so-great hands.
Wagering options
Betting options are a little better than those of the NYX equivalent if you're looking for a smaller wager on each hand with $1 to $200 available to choose from.
Frustration may be found when entering your chosen bet-per-hand, though. Instead of a simple textbox in which numbers can be input, you'll find a + / – button requiring constant clicking to find the sweet spot you're wanting to wager. Not ideal, but also not a deal-breaker.
The gold version
If you're finding the graphics and animations a little too frustrating and/or dated to keep on playing, you will find comfort in the gold version of Vegas Strip Blackjack.
Here you'll find the same game with a bit of a facelift to include better visuals and a few additional features to control. You will find both elements along with the trademark 0.35% house edge, which is really nice.
To cut a long story short
To cut a long story short, Vegas Strip Blackjack is one of the very best online casino games and the very best alternative to brick-and-mortar blackjack that we're seeing in the present day.
Vegas Strip Blackjack only shows a couple of differences to the classic game with only 4 decks of cards used in the digital version and the ability to surrender hands withdrawn when signing in to play.
Dealers will peek for blackjack on 10s and Ace up-cards and will stand on any 17's (including soft 17s).
Players can double down on any two cards as well as double down after splitting. Splitting can be allowed 3 times, making a total of 4 hands (depending on the provider) while Ace's can only be split once.
However, making a total of 21 on a split Ace does not count as a blackjack. Unlike 10-value of cards are also able to be split (e.g. A Queen and a 10).
There are 2 main providers of the game that can be chosen: NYX and Microgaming. Both come with their own pros and cons.
Neither really takes the crown for best software. However, a strong argument can be made for the Gold Vegas Strip Blackjack from Microgaming if visuals are of your concern.
Ultimately, with a house edge of just 0.35%, you'll find some of the very best odds in the online casino surrounding this table game. Perfect for those of us who enjoy the game and love to play for long periods of time.