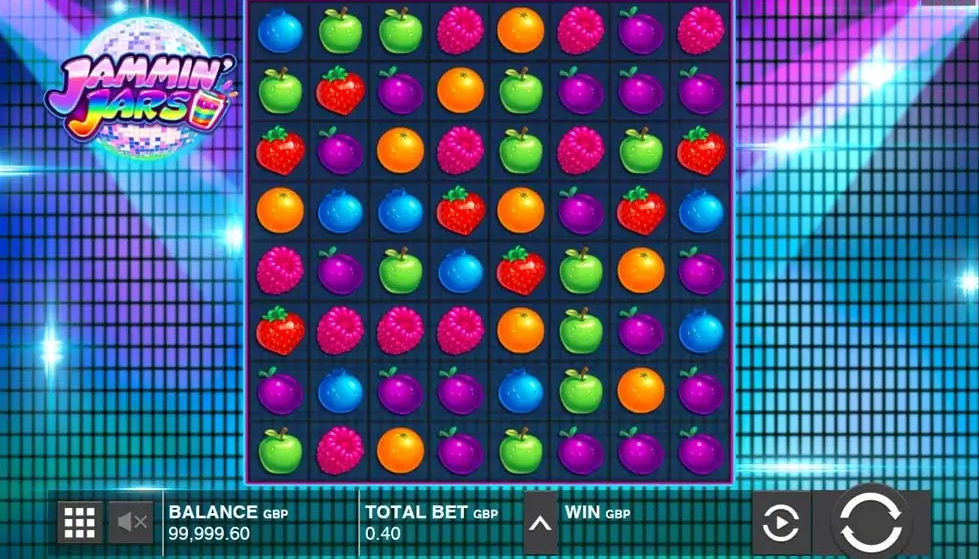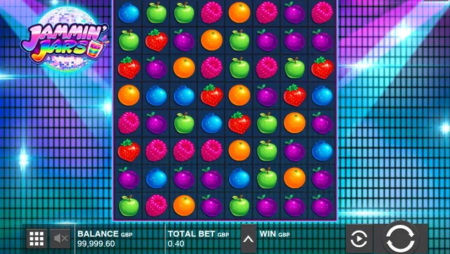 What do you get when you mix a mobile game with a slot machine? Whatever the final result is, it may turn out looking something like Jammin Jars. The first thing you will notice is that this game is not laid out anything like the classic 3-reel or contemporary 5-reel slot. Instead, Jammin Jars occupies an 8 by 8 grid. Yes, that is unusual, but it also gives this particular slot game a rather unique personality. You could try to categorize Jammin Jars as a fruit slot, but once the gameplay fires up, it becomes quite um, frenetic. Let's take a closer look at what this unusual slot game is all about.
Disco Comes Alive…Again
The overall theme of Jammin Jars is the disco scene of the 70s and 80s so expect a lot of flashing lights and a pounding soundtrack to keep you tapping your toes. Push Gaming is responsible for this slot game that doesn't exactly exploit that era but does a great job of representing it just the same. The pulsating music tracks perfectly sync up to the disco ball, the lights, and essentially appear as if you have just stepped back in time and entered a swinging disco nightclub just as things are getting exciting. Thinking of hosting a retro disco party? Jammin Jars would fit right in.
Jammin Jars – The Symbols and Gameplay Explained
If you like fruit, you are going to see a lot of it during this game as the symbols that appear in the 8 by 8 grid are mostly fruit. That means, if you are expecting to see a 10 or a Jack or an Ace, you'll have to find a different game to satisfy that particular craving. The only non-fruit symbol is the Wild symbol which is represented by the Jam Jar. As it is considered Wild, it can take the place of any of the other fruit symbols, and to add some extra fun to the game, Jam Jar has a few tricks that we will explain further in a few moments. If there is a symbol in the game you should pay attention to more than any of the others, we would strongly suggest you make Jam Jar that selection because it can change the way the game is going with just a single appearance.
The gameplay is what makes this such an interesting slot game. The 8 by 8 grid remains static, so spinning is not one of the actions you will see here. Instead, the fruit symbols drop down from the top to the bottom and continue to do so until the complete grid is full. If the randomly dropped fruit line up in specific bunches, they are considered winning lines. Then the winning combo will vanish making room for more fruit to fill the empty spaces with the assistance of virtual gravity. When there is no winning combo on the 8 by 8 grid, it empties dropping off the bottom of the screen to permit another collection of fruit to fall into place. This continues on and on and is the extent of the gameplay that comes from Jammin Jars. It's not complicated in any way and is just about too easy to understand.
What The Symbols Are Worth
Remember, we're talking about fruit here and for some reason, Push Gaming has decided that Strawberries are the most valuable at a maximum payout of 40 coins each. Oranges are worth 25, Raspberries total 15, Apples and Purple Fruit are worth 10 each and Blueberries round out the choices with a value of 4 coins. The values are important as there have to be five or more of the same fruit variety touching either horizontally or vertically to payout. It also means that on an 8 by 8 grid, the number of possible winning combinations is well, astronomical. The return to player (RTP) rate is 96.83% and Jammin Jars has a maximum top prize of 20,000 coins.
But There's More Than Just Fruit And Disco
The Jammin Jars slot game may be comparable in ways with Candy Crush. But there are some interesting extra features with this specific game. As an example, when a Wild Jam Jar is part of a winning combo, the Jar stays in place as the new fruit falls from the top to fill the spots left empty by the other winning fruit in that combination. When the Wild Jam Jar does this, it becomes a multiplier that increases by x1 with each new combination it becomes part of until the winning round is completed. With multipliers and combos, the winnings increase considerably. Plus, if three Jam Jars appear anywhere on the board, they will trigger a Free Game. Finally, a Rainbow Feature can be triggered at any time following a non-winning round. When this happens, a rainbow will span the board and blow up one or more fruit symbols to a mega-size which boosts wins.
Final Thoughts
Although it may look like a fruit slot that has been Franensteined with a mobile game, Jammin Jars is in reality an unusual slot game with no spinning, but fruit dropping down into an 8 by 8 grid. It boils down to be a matching game where combinations of matching fruit symbols result in the winning of various coin quantities. When the Wild Jam Jar appears in any pay line, the winnings are increased.
What makes this slot game stand out is not just the unusual 8 by 8 grid, but the thumping, pumping, pounding disco soundtrack that will keep you moving along with the beat. It is a fun, upbeat game that will keep you entertained and wondering what the next cascade of fruit is going to bring. It is a fast-paced, easy game to play that requires no skill, no spinning, and nothing more than the willingness to try to sit still in your seat with all the disco activity unfolding in front of you. Jammin Jars is quite simply, in a word, fun.