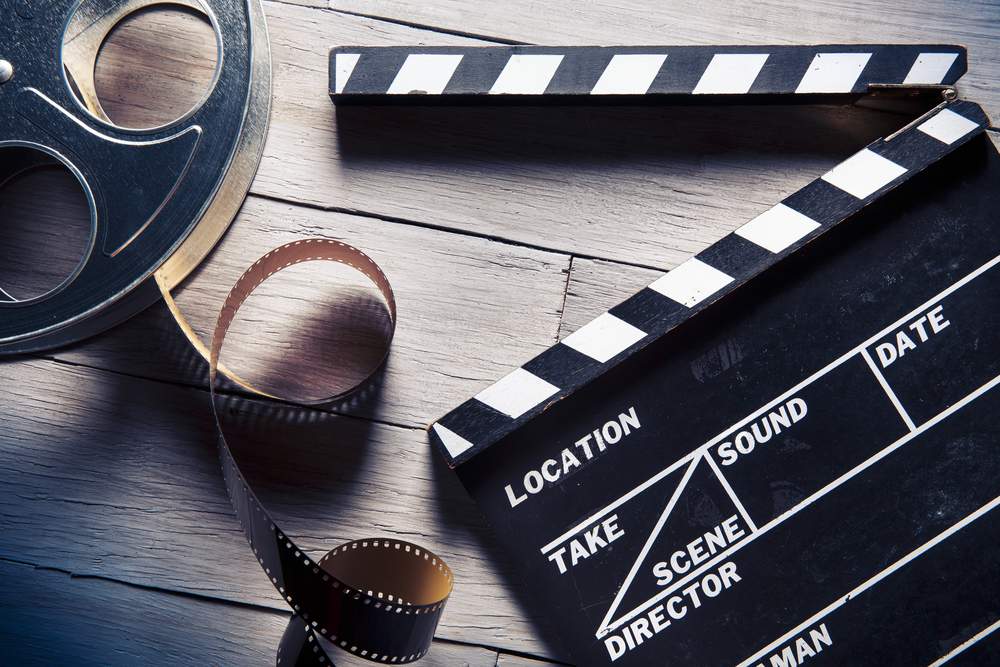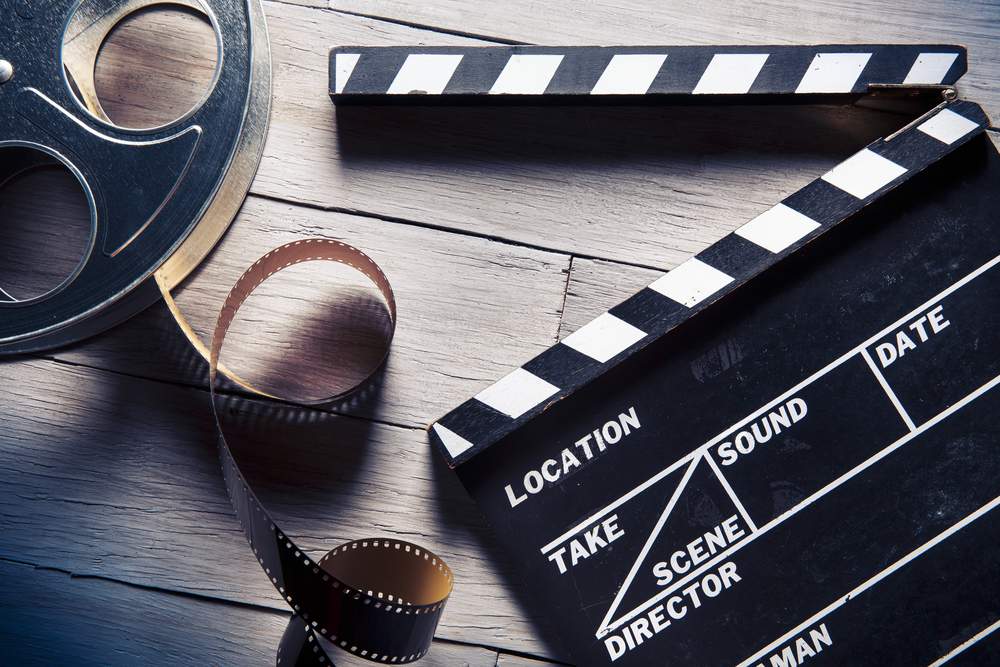 Are you are planning a movie night with your friends who fancy a gambling thriller? Perhaps you are getting ready for a weekend full of fun and gambling in Vegas.
Either case, watching a gambling film is a great way to learn a bit about your favorite casino game, whether it's craps, baccarat, roulette or poker. Thankfully, you don't have to look far and hard to zero in on the best gambling flicks.
To help you make the right choice, here are 15 crème de la crème of gambling films. So, bring out the popcorn, round up your friends, and let the show begin!
(1) 21 (Robert Luketic, 2008)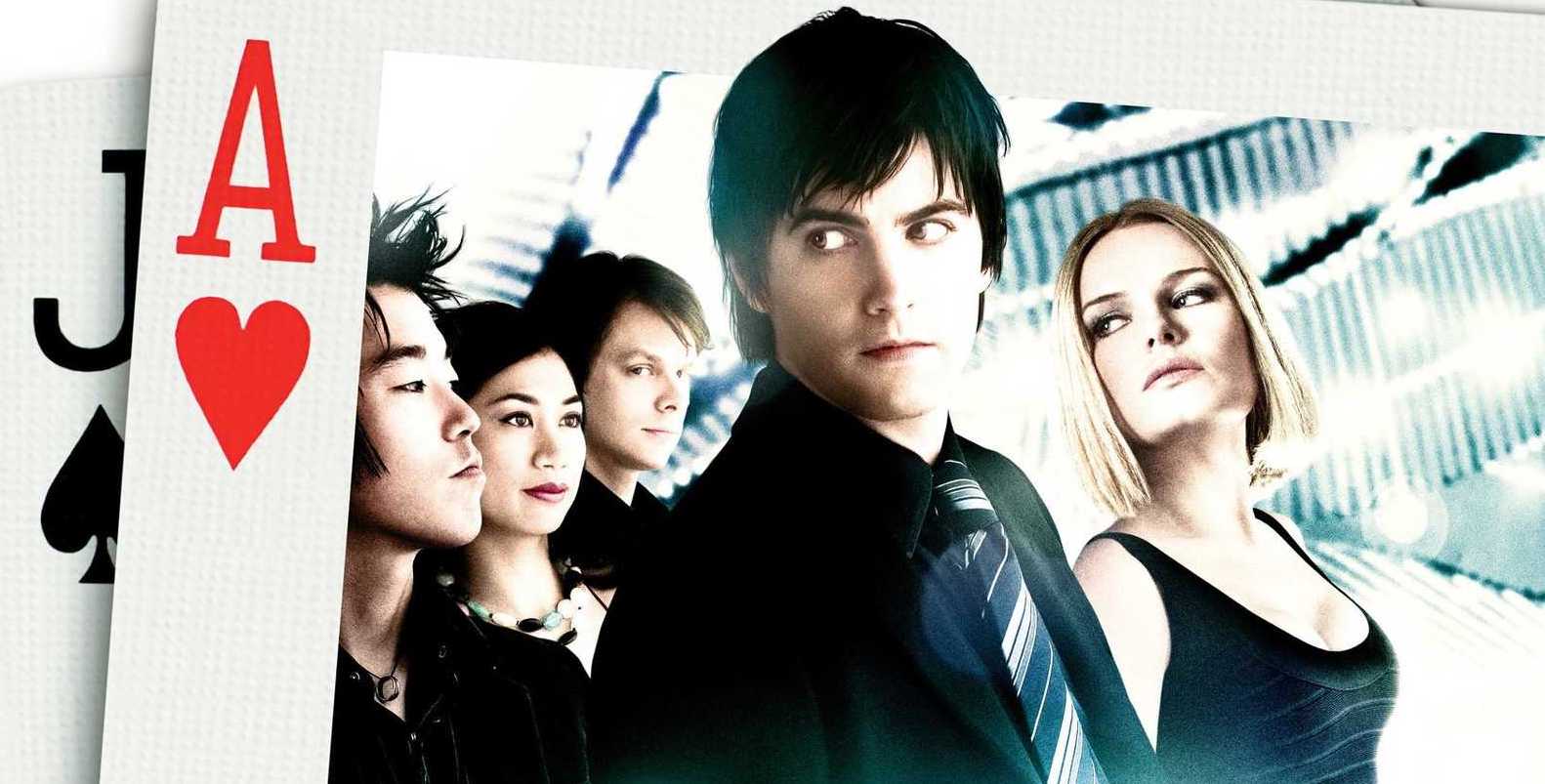 It can be a little tough to find a true story gambling movie that's jam-packed with suspense, thrill, and humor. Robert Luketic classic film 21 provides you with all these and then some. It's serious yet comical, which is why IMDB's score of 6.8/10 doesn't do it justice.
How the movie unfolds can make you forget that it's based on a true story of 6 MIT students who were taught by their unorthodox math professor Micky Rosa (played by Kevin Spacey) how to count cards. After several weekend trips to Las Vegas, they eventually took The Strip casinos for millions of dollars in blackjack winnings.
Perhaps the most heartwarming story is that of Ben Campbell (played by Jim Sturgess), a gifted student and an aspiring medical doctor. With no way of getting $300k to attend Harvard Medical School, Ben decides to join the card-counting team. Unfortunately, power and greed get the best of the students, putting their plan in jeopardy.
(2) High Roller: The Stu Ungar Story (A. W. Vidmer, 2003)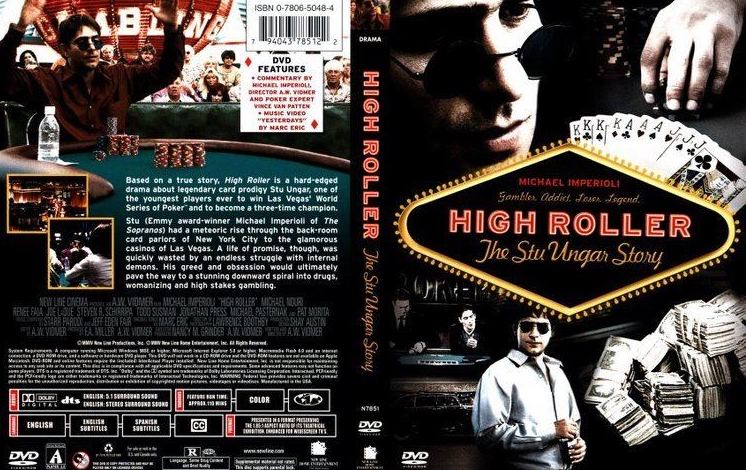 If you keep a tab on what's happening in the world of poker, then Stu Ungar needs no introduction. He's well-known poker guru famed for becoming the first-ever player to scoop 3 WSOP Main Event tournaments in the history of World Series of Poker. Unfortunately, he lost the vast majority of his poker winnings on horse racing.
High Roller: The Stu Ungar Story is an indie biographical film about the fascinating life of the high roller Stu Ungar, who is played by Michael Imperioli. Vidmer's docudrama features every aspect of the player's life, from when he had everything and hedonistic highs to when his life caved in. The film spares nothing, capturing Stu's dramatic rise to the zenith of poker gambling, and then his equally meteoric downfall.
(3) The Cincinnati Kid (Normal Jewison, 1965)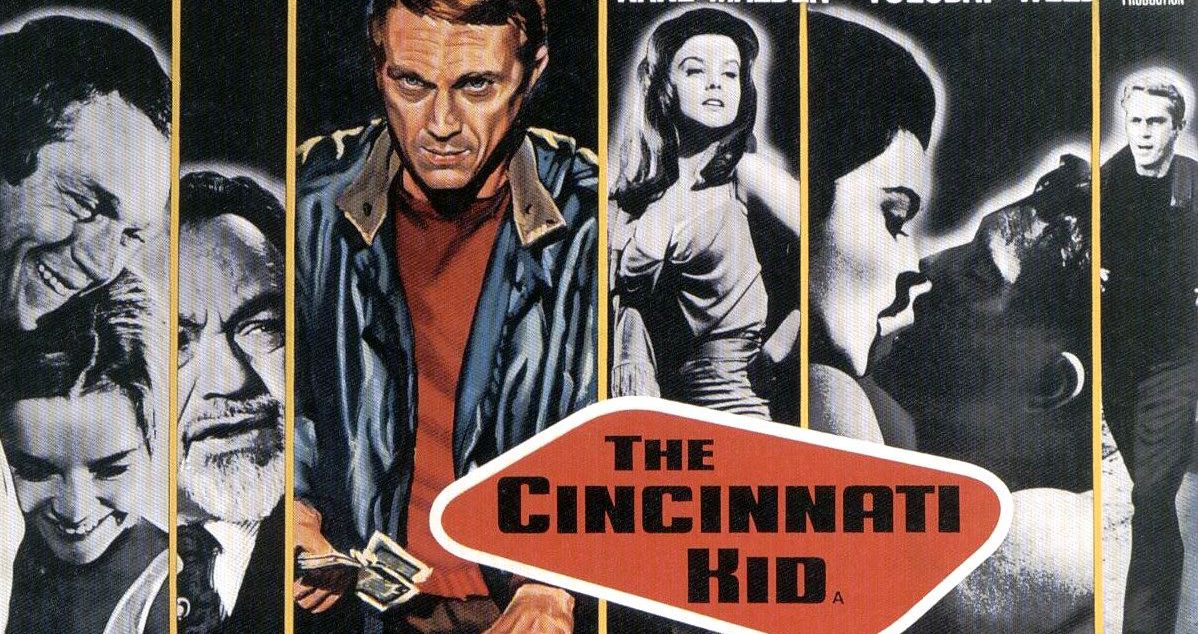 If you are looking for a classic gambling film, look no further than The Cincinnati Kid. The movie walks us through the exploits of the Kid (played by Steve McQueen) as he tries to cut a niche for himself in the gambling during the Great Depression. To do this, the Kid must outdo Lancey, considered one of the best poker players in the era.
The Cincinnati Kid has everything you can wish for in a dramatic classic poker film – the underhand moves, the betrayal, women, guns, actions … the whole shebang to keep your adrenaline pumping. It is a fast-paced thriller that unravels the world of gambling piece by piece.
If you are looking for inspiration and something to get your confidence going before a serious poker game, this film is what the physician prescribed. No wonder it scored a staggering 7.3/10 at IMDb.
(4) Rounders (John Darl, 1998)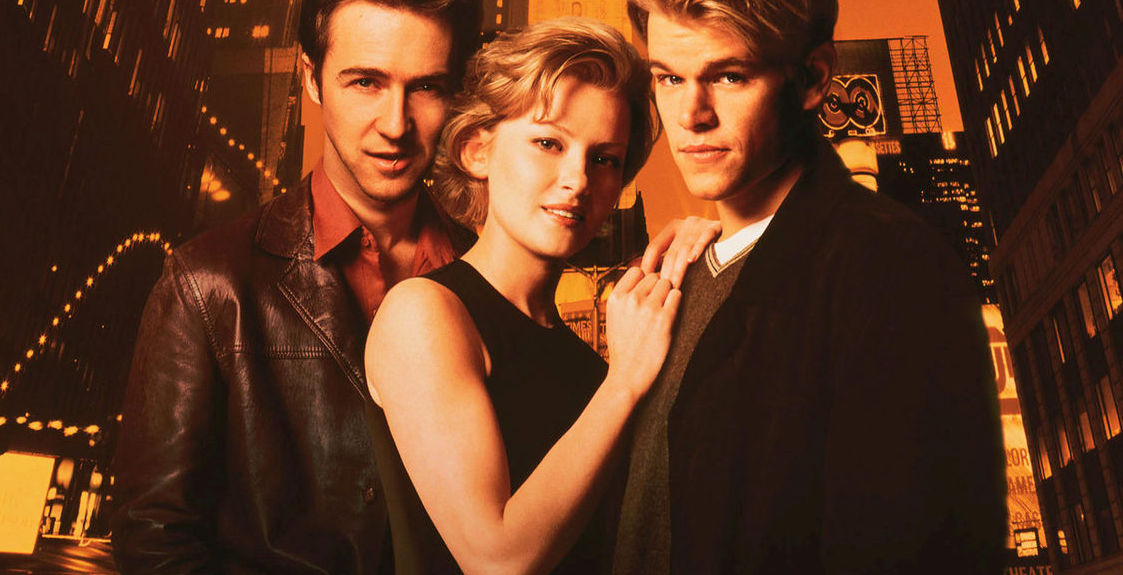 It's a little difficult to find a gambling movie that offers plenty of humor and inspiring drama. Rounders gives you a slice of everything, with a drama-filled script, great rating (7.3 stars), and a star-studded cast (with the ranks of Matt Damon as the main star, as well as Edward Norton and John Malkovich). What more could you ask for?
Rounders follows the story of Mike McDermott (Matt Damon) who must beat Teddy "KGB", a Russian gambling baron in a high stakes poker. At home, McDermott is being pressured by his girlfriend Jo to call it quits from gambling. However, he must pay his college fees with poker winning.
The push-and-pull between the couple continues until Lester (a friend of McDermott's) comes out of the slammer and is required to pay off an old debt owed to the KGB. The showdown unfolds right before your eyes, with lots of table banter and poker bluffing strategies.
(5) The Hangover (Todd Phillips, 2009)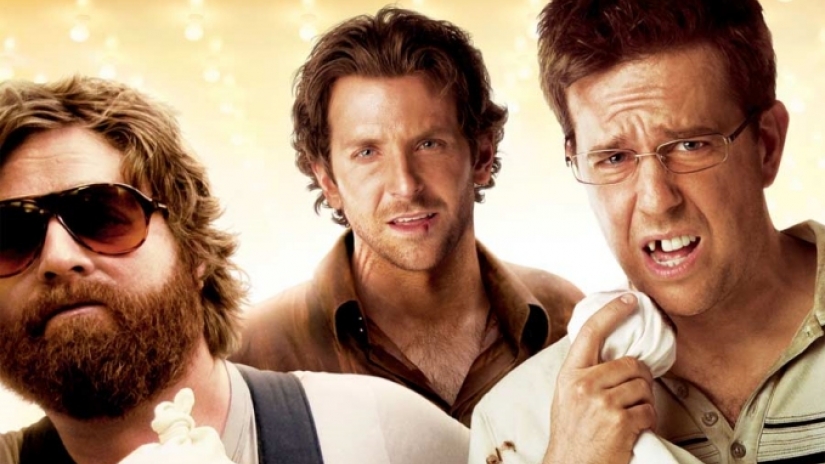 The Hangover is a fun (and somewhat literal) play on the gamblers' saying: " Whatever happens in Las Vegas stays in Vegas." The movie itself isn't centered around gambling, but there are several gambling scenes dotted throughout the flick. With famous names starring in the film, The Hangover isn't too shabby.
It follows a mishap-filled story of Doug (played by Justin Bartha) and his 3 friends – Alan (Ed Helms), Stu (Zach Galifianakis), and Phil (Bradley Cooper). The odd crew decides, 2 days before Doug's wedding, to make a trip to Las Vegas for a bachelor party.
The next morning, however, the trio wakes up and draws a blank on whatever happened last night. Funny enough, they'd also lost and can't seem to locate the whereabouts of the groom. Now, now. The three groomsmen have to put their thoughts together and try to find their friend just hours before the wedding.
The first Hangover movie was a huge hit, so much so that Warner Bros. released Hangover II in 2011 and Hangover III in 2013. Every film in this sequel is not only hilarious but gives an exaggerated look of Las Vegas and its imposing casinos. Can we hold out hopes for the release of Hangover IV?
(6) Casino Royale (Martin Campbell, 2006)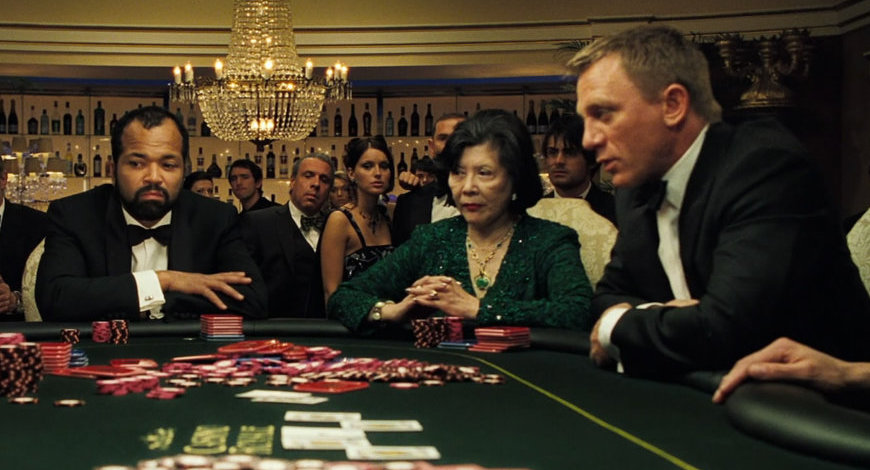 Perhaps one of the most notable gambling films ever, Casino Royale follows the exploits of James Bond (aka 007, played by Daniel Craig) as he tries to defeat Le Chiffre (Mads Mikkelsen), a well-known financier of terrorist organizations.
After getting word that Le Chiffre wants to use high stakes poker to raise money for terrorist activities, MI6 enlists the help of Mr. Bond to try to beat him at the poker table. Not only does Bond show off amazing bluffing strategies but it also manages to break down Le Chiffre organization.
Casino Royale remains one of the most loved and watched movies in the Bond franchise. Earning an outstanding 8 stars at IMDb, the film scores points on every front, from the cool gambling moves to action-packed scenes.
(7) Casino (Martin Scorsese, 1995)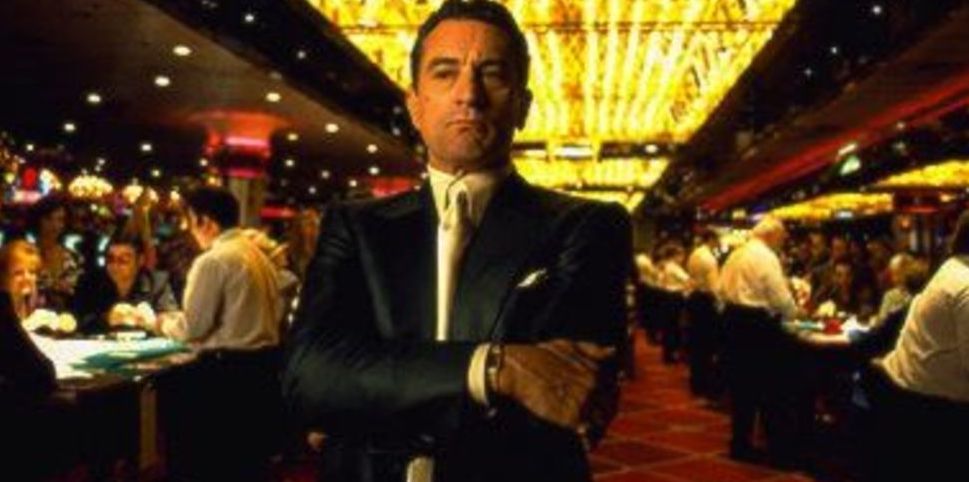 It's all in the name. This is an early epic drama by famous film director Martin Scorsese. Based on Casino: Love and Honor in Las Vegas, wonderful nonfiction by Nicholas Pileggi, this movie is star-studded. Some of the big names included Joe Pesci, Sharon Stone and the one and only Robert de Niro.
The movie depicts the two faces of gambling in Las Vegas: the cruel and brutal dealings happening behind the scenes, juxtaposed with the glitz, ritz, and glamour that often shown by mainstream media.
Ace (de Niro) is a Vegas casino operator with mob connection but he lives a seemingly normal and civilized life with his family. However, when Santoro (Pesci) lands in town, Aces life turns upside down. Interestingly, Santoro is his childhood friend and now a well-known mafia lynch-baron.
If you are looking for a casino movie jam-packed with murder, power, money, deception, and greed, Casino will simply knock your socks off.
(8) Honeymoon in Vegas (Andrew Bergman, 1992)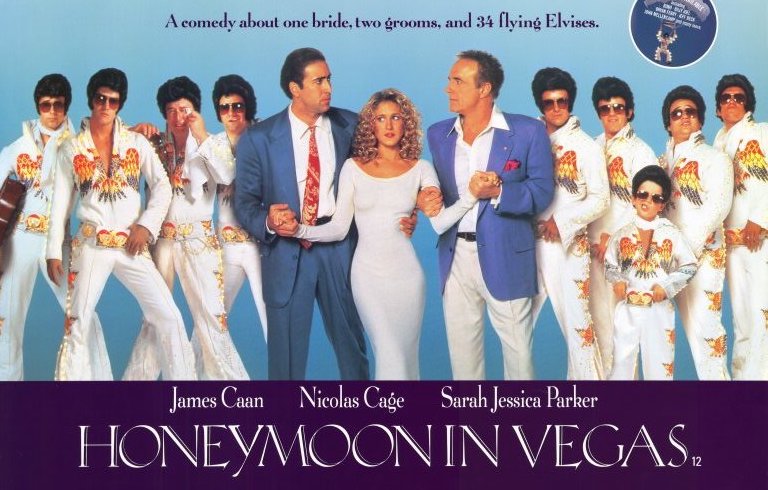 Vegas is probably not the right place to go for your honeymoon, a subtle fact Jack Singer (played by Nicolas Cage) learns the hard way. After burning through his life-savings of $65,000 at the poker table, Jack who's about to get married to Betsy (Sarah Jessica Parker) is forced to lend his fiancée to the winning opponent and con artist, Tommy Korman (James Caan).
Betsy, who resembles Korman's late wife, starts to develop feelings for the con man. It's now upon Jack to quickly track the "couple" down to Hawaii before it is too late. Who will get hitched to Betsy?
(9) Lock, Stock and Two Smoking Barrels (Guy Ritchie, 1998)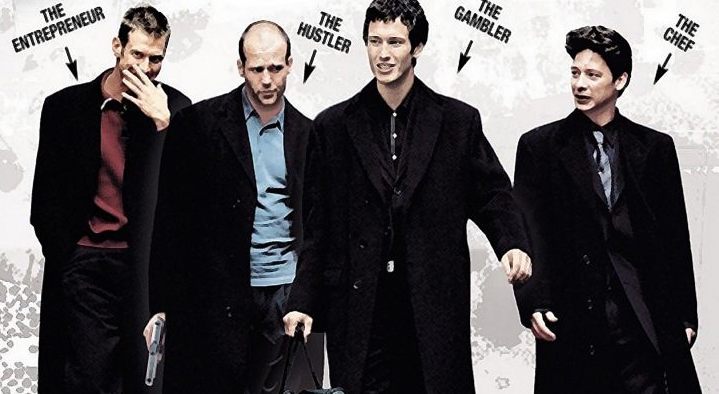 Nothing brings together crime, mystery and comic relief quite like a good gambling film, and Guy Ritchie's Lock, Stock, and Two Smoking Barrels is a classic example. With 8.2 stars at IMDb, it's one of the highest-rated gambling-related movies, and it definitely lives up to the hype.
The premise of the film revolves around 4 English friends who decide to pool money to beat a gangster named Hatchet Harry in 3-card brag (UK's version of poker). Unfortunately, Eddy (the leader of the group) loses everything to Harry, who by the way cheated.
After losing the botched poker game, the quartet must raise £500,000 to pay off Harry's gambling debt or Eddy will lose his dad's pub. You have to see this thriller for yourself to discover the violence, heists and clowning these guys must go through to evade Harry's wrath.
Probably the biggest lesson is that you should never gamble more than you can afford, plus be careful when picking your poker allies.
(10) Ocean's Eleven (Steven Soderbergh, 2001)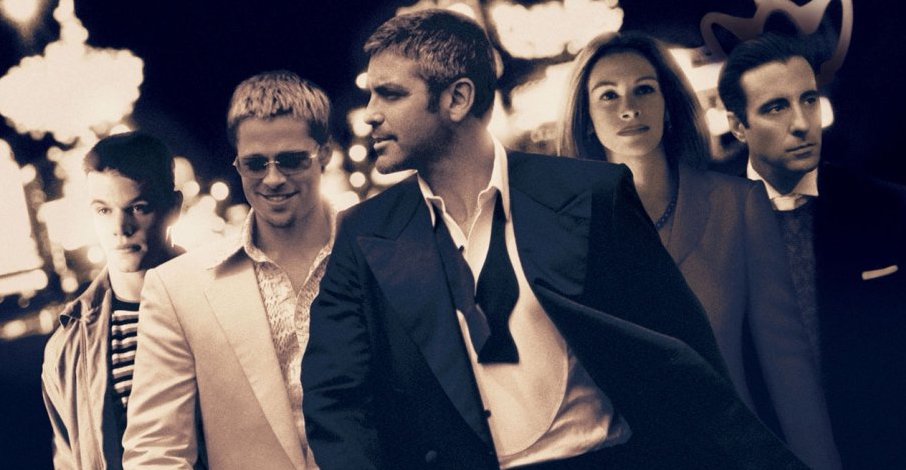 If you love casino heist films, the chances are very good that you have watched Steven Soderbergh's crown jewel Ocean's Eleven.
As you might expect, there's a ringleader, Danny Ocean (played by George Clooney), and a team of high risk-takers who want to execute one of the most elaborate casino heists in history.
The Ocean's 11 targets three of Vegas largest casinos – the MGM Grand, the Mirage and Bellagio. In this film, the three casinos are owned and operated by scum-bag tycoon Terry Benedict (Andy Garcia).
Even though Ocean and the team have laid out a highly detailed and elaborate plan, the heist faces plenty of turns and twists en route. Will the Ocean's 11 make away with millions of dollars from the tycoon's coffers? If you have 1hr 57min to spare, this is a casino heist movie that'll keep you on the edge of your seat from start to finish.
(11) Croupier (Mike Hodges, 1998)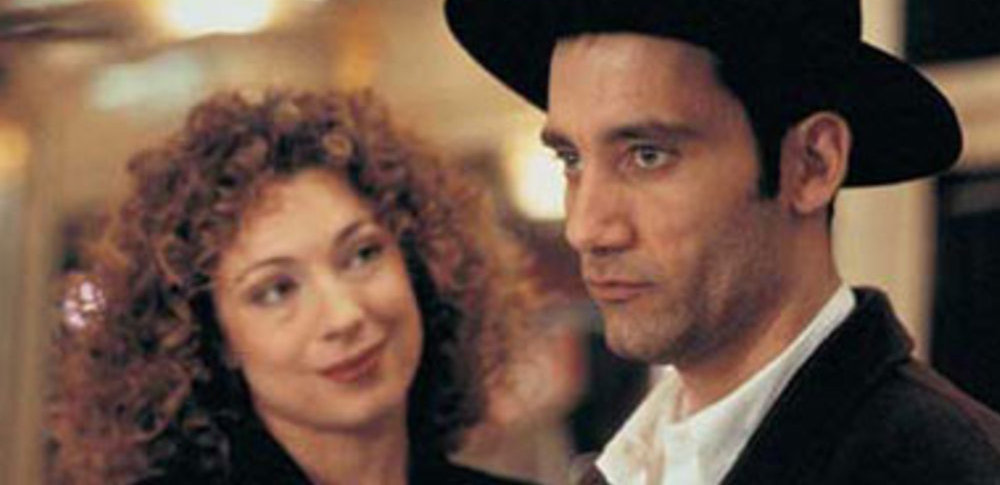 Played by a youthful Clive Owen, Jack Manfred is a writer struggling to make ends meet. His financial misfortune forces him to become a croupier (dealer) at a London high-street casino. Soon, he starts making underhand gambling dealings with a player, and from then on his life becomes one rollercoaster ride.
The movie Croupier takes a rather different take on conventional gambling films, showing another side of the industry. It's one filled with tears and joy, brokenness and affluence, and much more.
(12) Owning Mahowny (Richard Kwietniowski, 2003)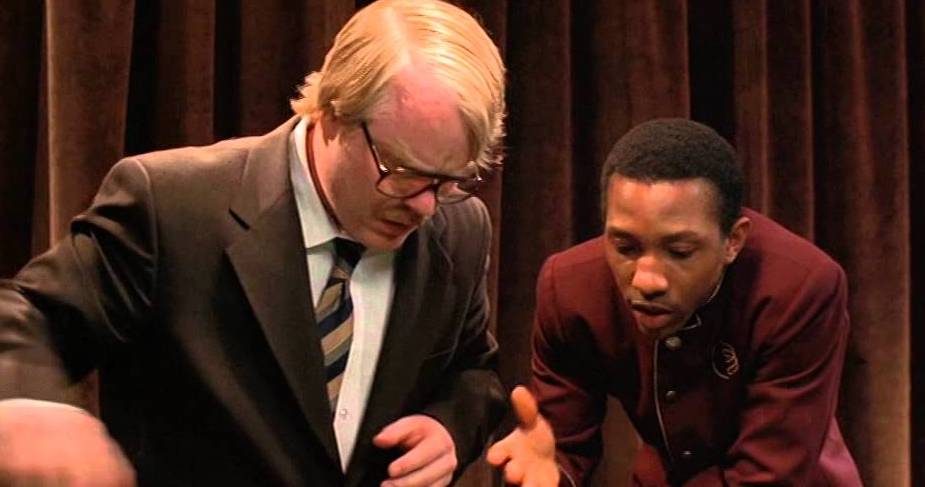 The stark reality is that many problem gamblers go the extra mile to satisfy their addiction. No other gambling film captured this quite like Richard Kwietniowski's Owning Mahowny. Reviewed highly by experts on IMDB and Rotten Tomatoes, and amateur gambling movie reviewers at CasinoBonusCA, this adaptation of a real-life story depicts a tragic story of an embezzlement
Based on a true story of one of the biggest one-man bank frauds in Canadian history, this film follows the ups and downs of Dan Mahowny, Toronto bank worker. This is a story that almost writes itself.
Mahony is a banker with a gambling addiction problem. To make matters worse, he has unfettered access to accounts with millions of dollars in them. You can guess the rest.
(13) The Gambler (Karel Reisz, 1974)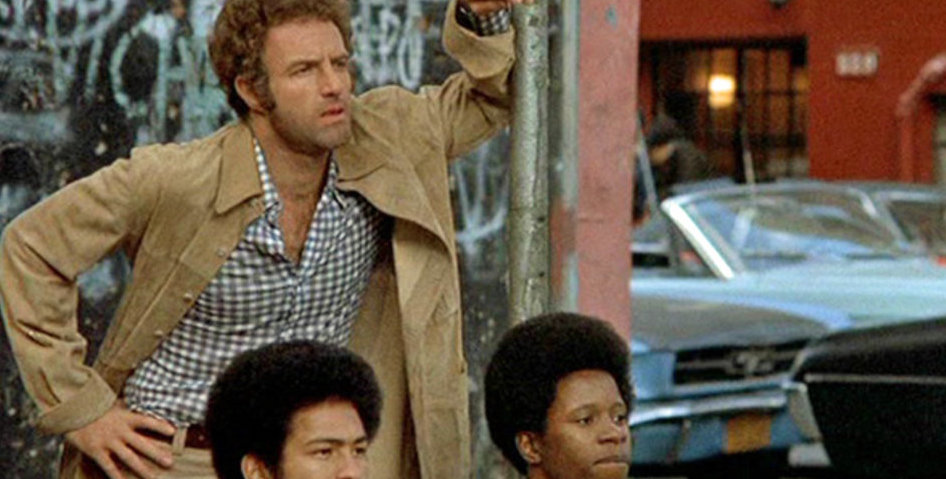 Here's another gambling movie classic.
It revolves around the gambling troubles of Axel Freed (James Caan), an English professor in New York. He has a gambling problem. After running through his savings, he goes on to borrow money from his girlfriend. Before the dust settles, he borrows $44k to settle his lost basketball wager. It was just a matter of time before crooks and loan sharks were after him. Will he stop gambling?
(14) The Good Thief (Neil Jordan, 2002)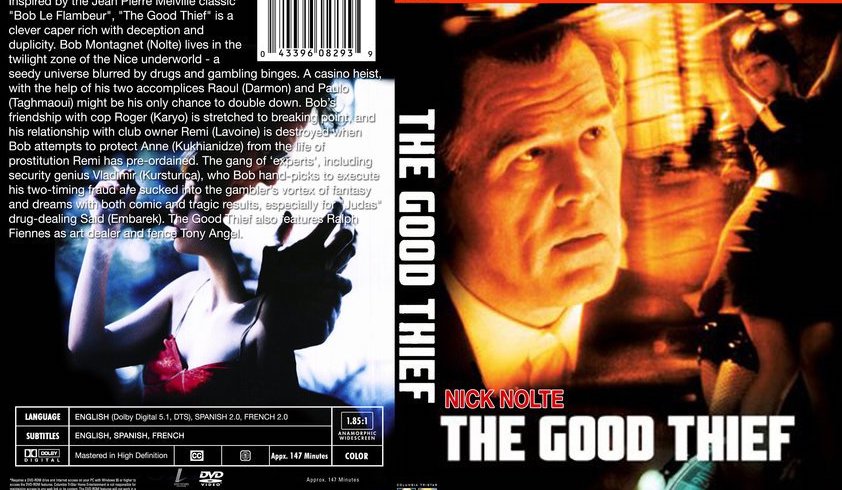 Although not action-packed, The Good Thief is a quintessential gambling film with a small twist. Bob (Nick Nolte) is a gambler whose time is not on his side. After enduring a long losing streak, Bob tries to steal from a Monte Carlo casino, but an informer has already tipped off the police. Can Bob succeed in robbing the casino?
(15) Casino Jack (George Hickenlooper, 2010)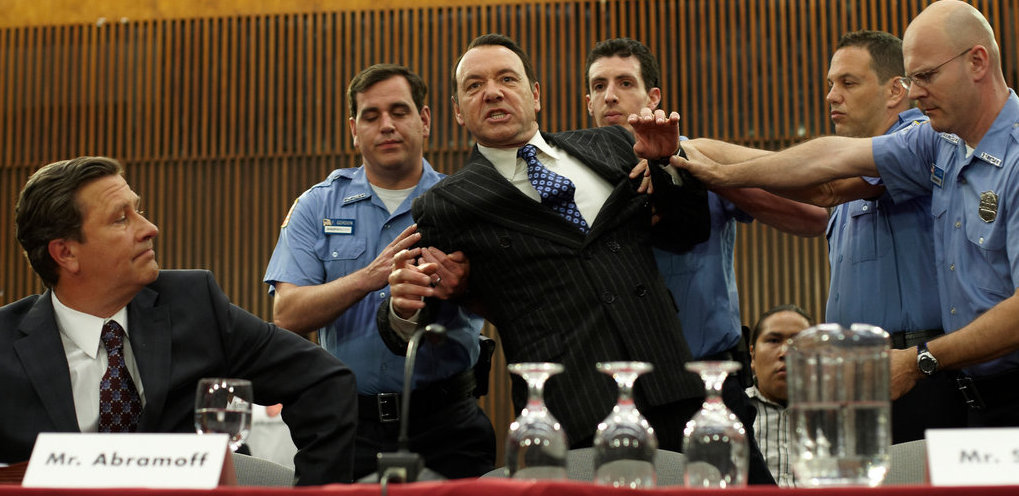 This is one of the most underrated Kevin Spacey's casino films. In it, Spacey plays the role of Jack Abramoff, a powerful Washington DC lobbyist. Alongside his protege Michael Scanlon, Abramoff fails terribly after his attempt to influence turns into murder and corruption.