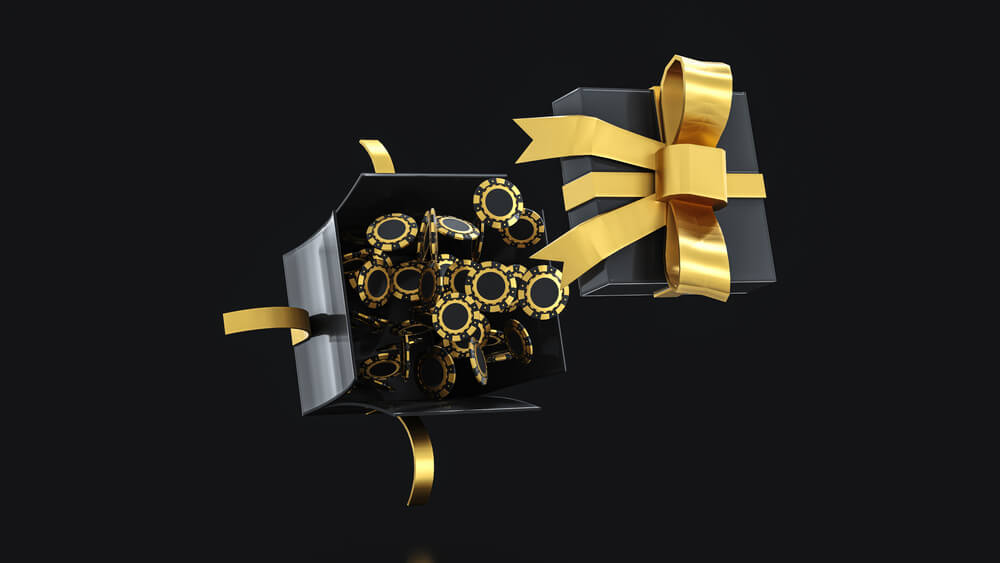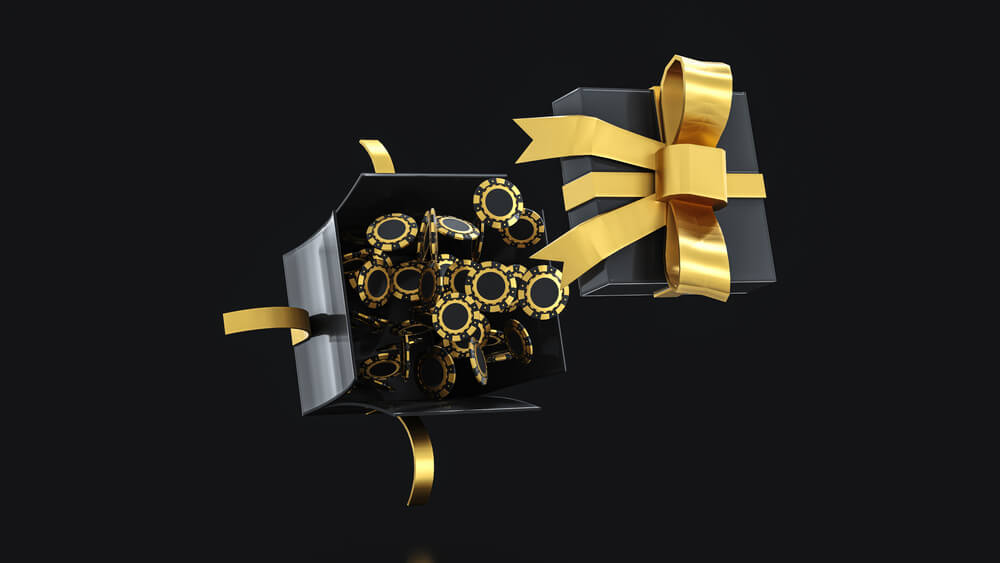 Shopping for gifts is difficult enough. But what do you get for someone who is a gambler or fond of gambling? There are only so many decks of cards that anyone should own. There has to be something else, something unique and interesting enough that the bettor you are buying it for will get some use out of it. After all, nobody likes a gift that just gets tucked away somewhere and forgotten. The list below contains some of the best gift ideas for gamblers that you can bet will not be regifted the next time a holiday or birthday rolls around.
1.  JXGZSO Gambler "I'd Rather Be At The Casino" Lucky Dice Socks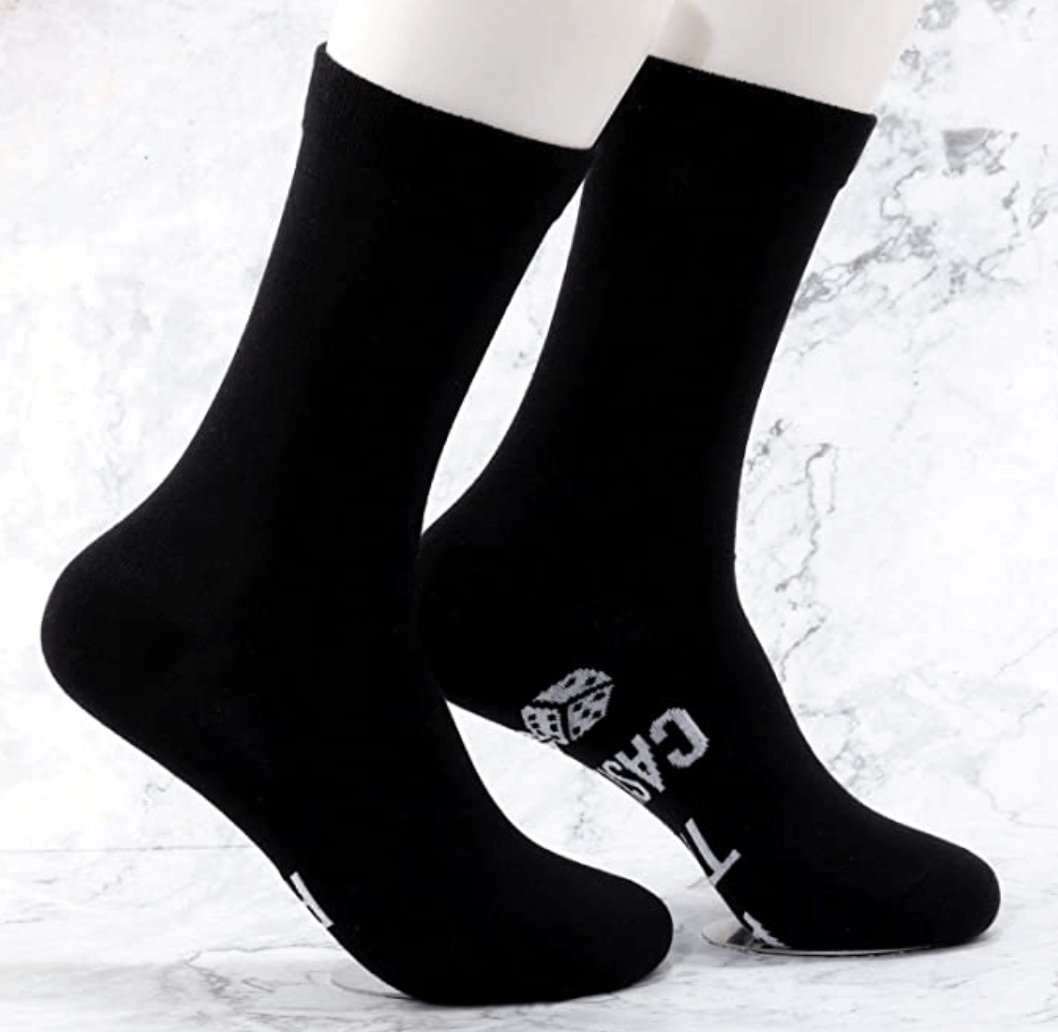 For the superstitious gambler in your life, these socks will allow them to keep Lady Luck on their side! Sure, there isn't a gambler in the world today who doesn't carry a Good Luck charm of some kind and these socks are a great way to do that without being obvious about it. Made of a blend of 80% cotton, 17% polyester, and 3% elastane, the socks are very comfortable, won't distort when worn, and will last a long time. They are considered to be unisex in design and will fit sizes 4 to 12 for either women or men.
Pros:
– good quality
– good fit
 Cons:
– average socks, nothing special
– some reviewers felt these were overpriced for what they were
Buy this JXGZSO Gambler "I'd Rather Be At The Casino" Lucky Dice Socks on Amazon here.
2. Cottage Creek Piggy Bank "Casino Money"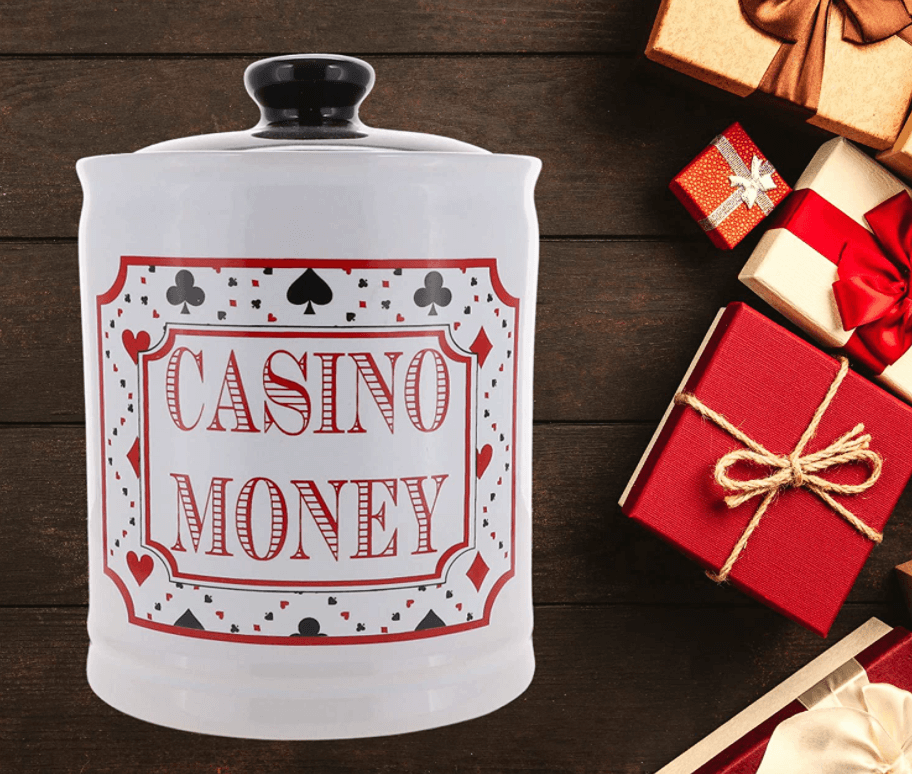 Need a place to stash your casino winnings or to save up for your next trip to the casino? This premium stoneware ceramic money jar is the perfect solution. It stands 6-inches tall and 5-inches wide and can be used for more than just collecting spare change. It can be a candy jar, for storing small items like pens, pencils, paperclips, rubber bands, and more. It is food safe and dishwasher safe. Plus, it has an attractive "Casino Money" marking on the front to make it stand out from all other jars in your pantry.
Pros: 
– thick, strong walls on this jar
– easy to clean
Cons: 
– small size, about the same as a coffee mug
– does not hold a lot of anything in it
Buy this Cottage Creek Piggy Bank "Casino Money" on Amazon here.
3. I Don't Even Fold My Laundry – Poker T-Shirt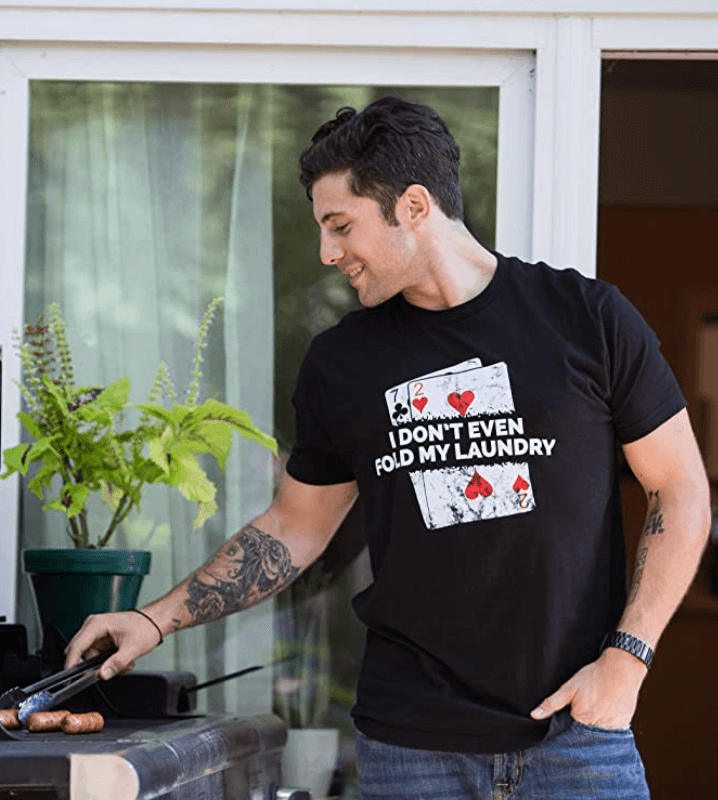 What do you get that gambler in your life who has everything? This humorous t-shirt will get a laugh and give that person you are giving it something to show off their game attitude. Made in the US, and intentionally faded and distressed, this 100% cotton t-shirt comes in black with a print on the chest that shows two playing cards and the statement "I don't even fold my laundry." Unisex sizing and created in Ann Arbor, Michigan. This tee will be a hit wherever it is worn and will look great on anyone. Shopping for a friend who loves poker? Check out this article on the best gifts for poker players. 
Pros: 
– poker fans seem to love the message on this shirt
– good quality, great fit
Cons: 
– no side seams which makes folding and ironing difficult for some
– reviews indicate to order one size larger than normal for a good fit after washing
Buy this I Don't Even Fold My Laundry – Poker T-Shirt on Amazon here.
4. BigOtter Mini Slot Machine Toy Bank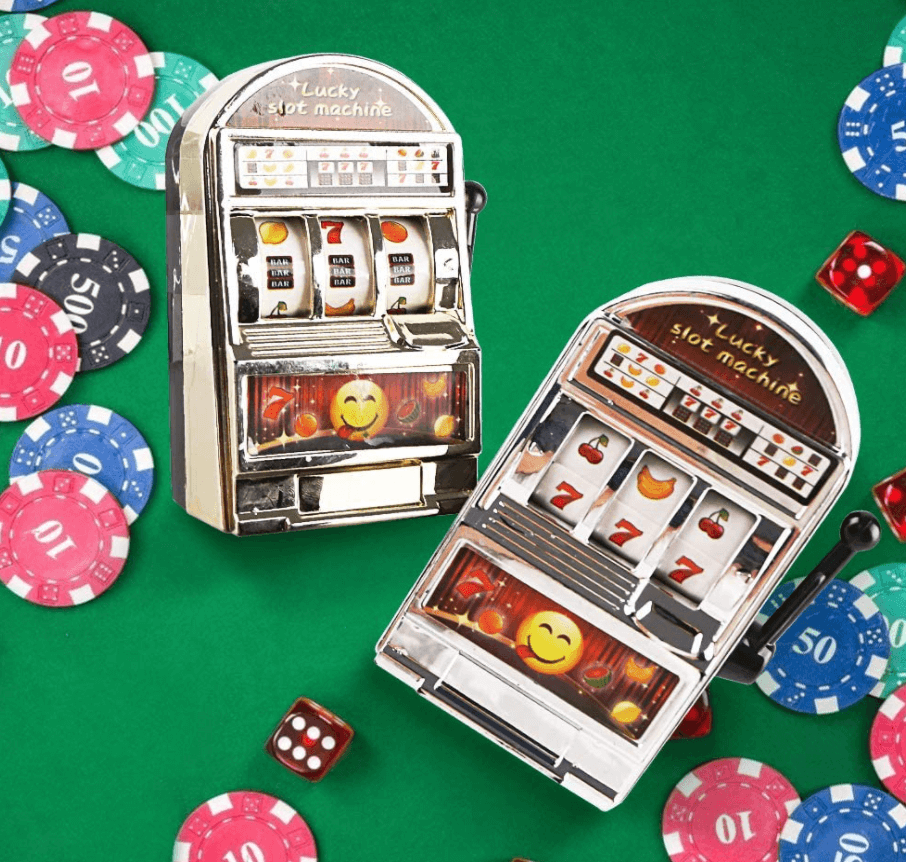 Okay, it's another coin bank but this one is very different in that the reels actually spin. For fans of slots, this is a must-have gift. Although they are made of hard, durable plastic, both of these mini-slots are strong and are of high quality. The three reels on each will spin with a pull on the handle and contain the graphics of fruit, 7's, and bars you would see in classic slot machines. They are also handheld measuring 4-inches by 2.3-inches by 1.5-inches. They make a great gift for that slot gambler in your life.
Pros: 
– these games operate without batteries required
– can be used as a cake decoration as several reviewers have noted 
Cons: 
– these are much smaller than expected
– Very limited play where all three reels spin together as opposed to separately and there are no payouts
Buy this BigOtter Mini Slot Machine Toy Bank on Amazon here.
5. Nash Clay Poker Chip Set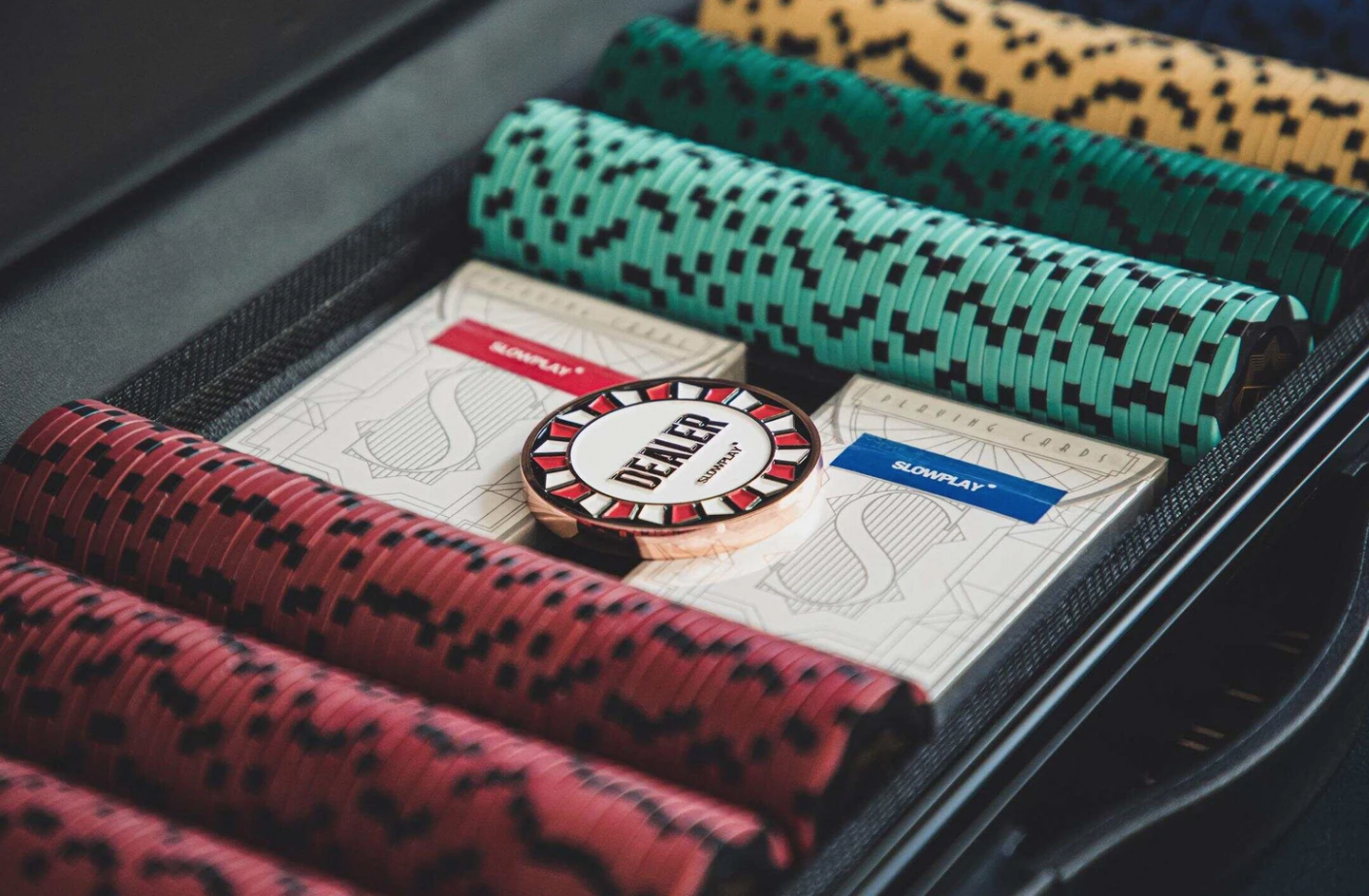 This poker chip set comes complete with a sturdy, sleek, and modern carrying case. The chips were crafted with a double injection, iron core and each chip weighs 14 grams. The design of the chips was inspired by the early 20th century Art Deco style and looks as classic as they are attractive. The carrying case has a German Bayer Polycarbonate outer shell which is extremely durable. The case has an aluminum alloy frame, zinc alloy lock, and a leather handle. Same with the chips. When you touch them, you can instantly tell they're designed to last for a long period of time. The quality, texture and look and feel will tell the person you're gifting this to that you really put some thought into buying this gift. This poker chips set will elevate any poker game to a fun and exciting poker night.  
Pros:
– good price for the level of quality
– the clay chips are amazing
Cons:
– chips have a generic look to them
– the company does not customize the chips
Buy Nash Clay Poker Chip Set Here
6. MoneyLine Sports Betting Dice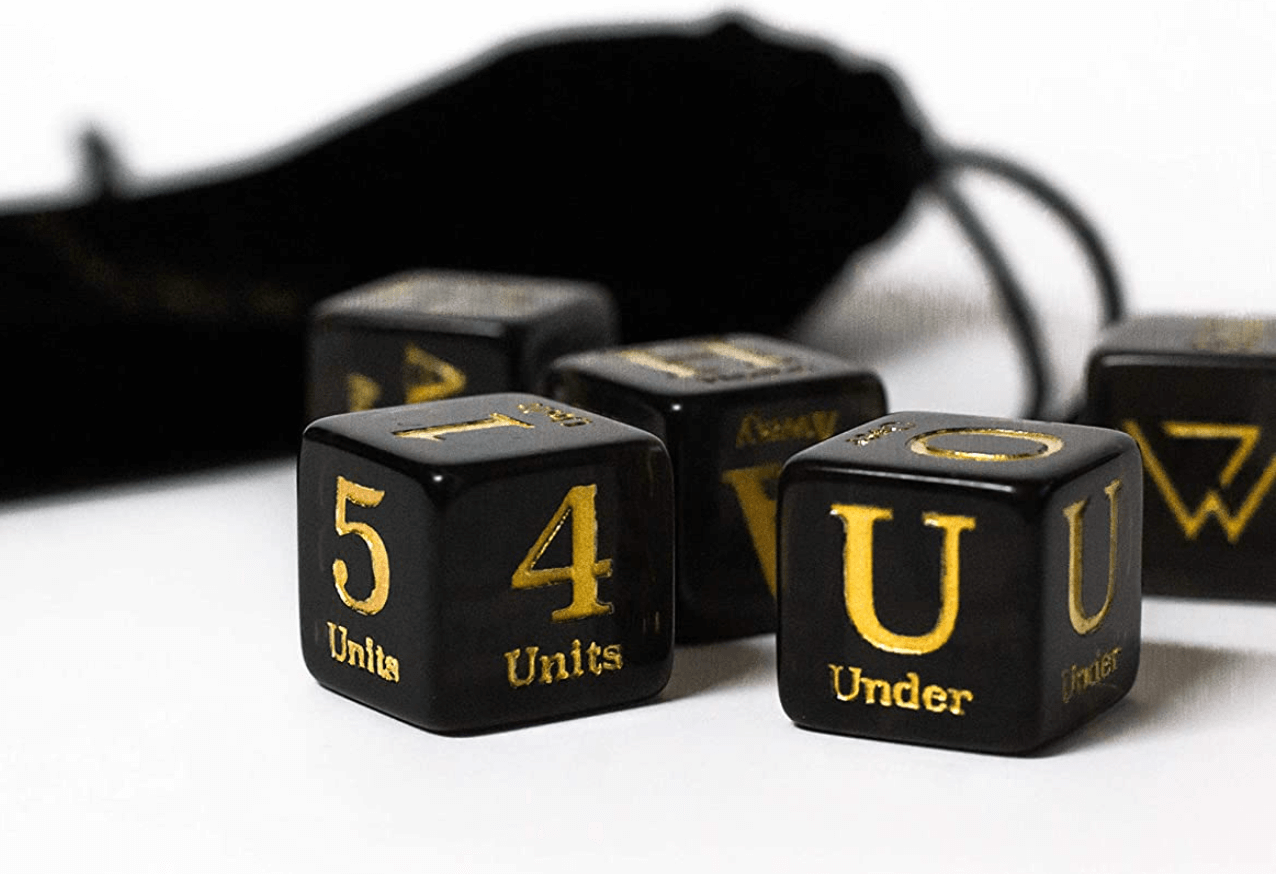 Know someone who can't quite decide on how to bet at the sportsbook? This set of five dice come with a drawstring bag and will assist in helping make those tough sports betting decisions. Each dice has a unique set of symbols on them ranging from Over, Under, Home, Away, Moneyline, ATS, Units, and one with all the options. The dice have a slick, black translucent design and are intricately carved with gold symbols. The drawstring bag is sleek and is the best way to keep these betting tools safe and secure.
Pros: 
– these dice provide an interesting aspect to betting beyond flipping a coin
– some reviewers claim they have helped with their betting
Cons:
– there is no skill when using these for betting
– not enough options represented
Buy this MoneyLine Sports Betting Dice on Amazon here.
7. Derby Day Horse Racing Board Game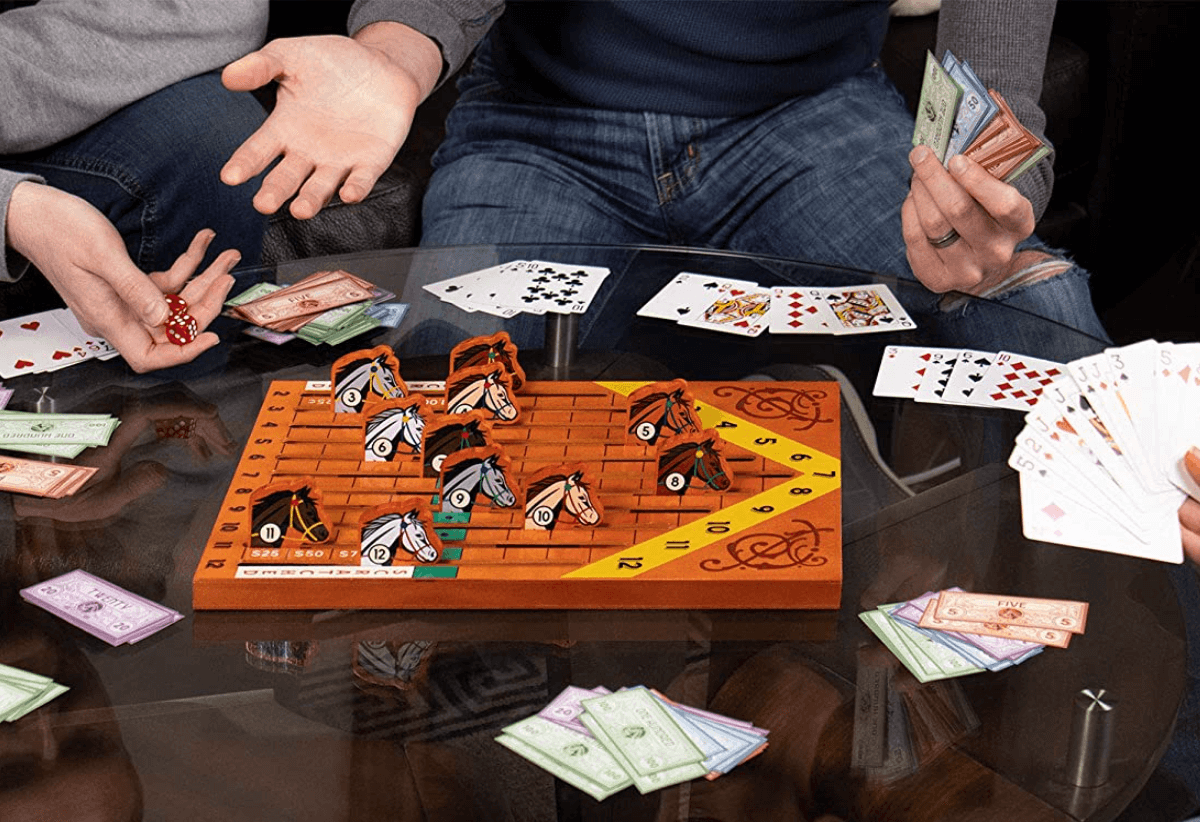 This board game replicates the fun and excitement of live horse racing! The package includes the game board, a deck of cards, currency, dice, and an instruction booklet that contains odds and alternate rules. There are a total of 12 horses on the track and this game can be played by 2 to 6 players. Promoted as a fast-paced, high-stakes game of luck, this classic board game brings the Sport of Kings into your home as a fun game for the whole family to enjoy. Skillfully move your horse to the finish line for the win!
Pros:
– the horses are made of wood and are durable
– reviewers state that the more players involved, the more fun the game becomes
Cons:
– instructions a bit on the vague side, particularly the alternate rules
– the thin balsa wood of the game board is not very durable
Buy this Derby Day Horse Racing Board Game on Amazon here.
8. I Believe In Gambling Two-Tone Mug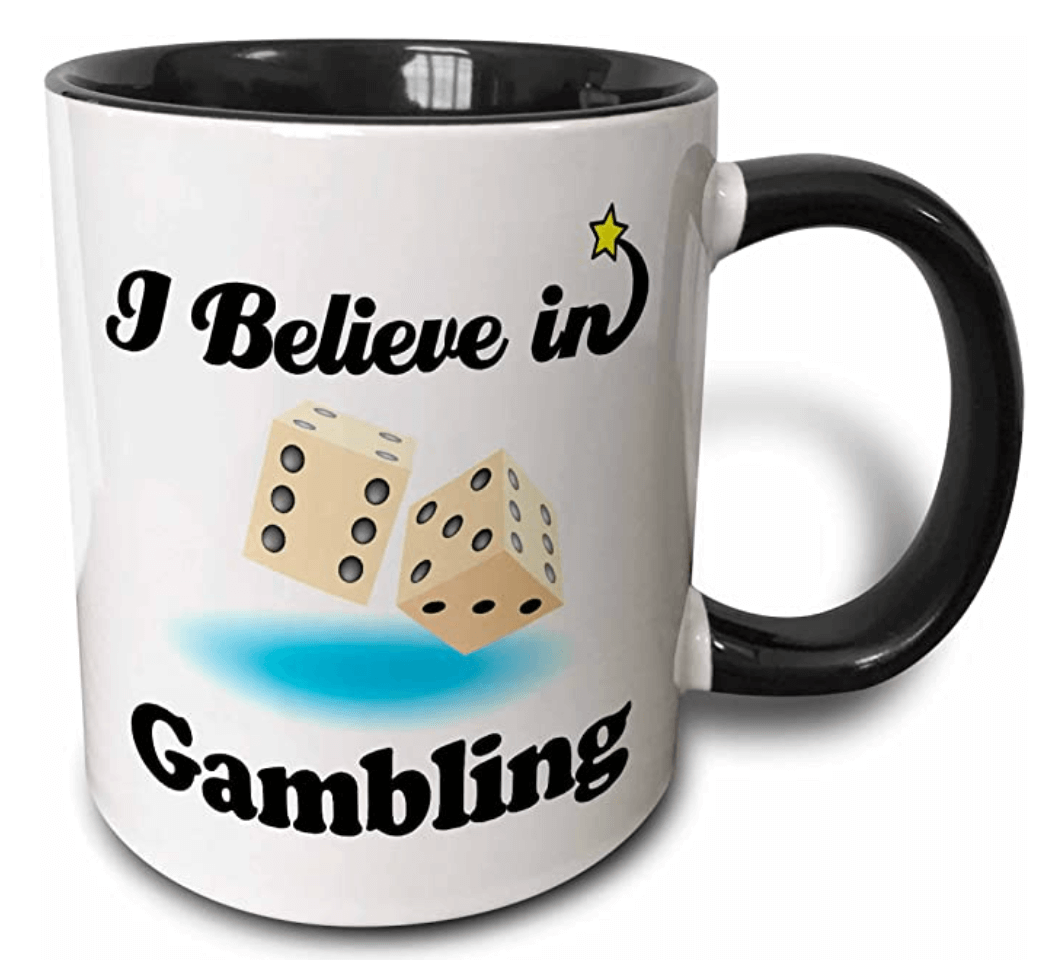 Sometimes the best gift of all is the one that seems to be the least obvious choice. Everyone drinks a hot beverage and whether it is tea or coffee, this 11-ounce mug holds a lot of it and looks good doing it. For the gambler on your gift-giving list, this is the perfect way to start their day. The mug clearly states "I believe in gambling" on it and features two rolling dice. But to see that message, a hot liquid has to be poured into it otherwise the mug appears to be nothing more than a black drinking vessel.
Pros: 
– this mug holds a lot of liquid at 11-ounces
– the mug has a large, easy to hold handle
 Cons:
– requires hot liquid to see the graphics
– the graphics do not look as professional as they could be rendered
Buy this I Believe In Gambling Two-Tone Mug on Amazon here.
9. Fairly Odd Novelties Shot Glass Roulette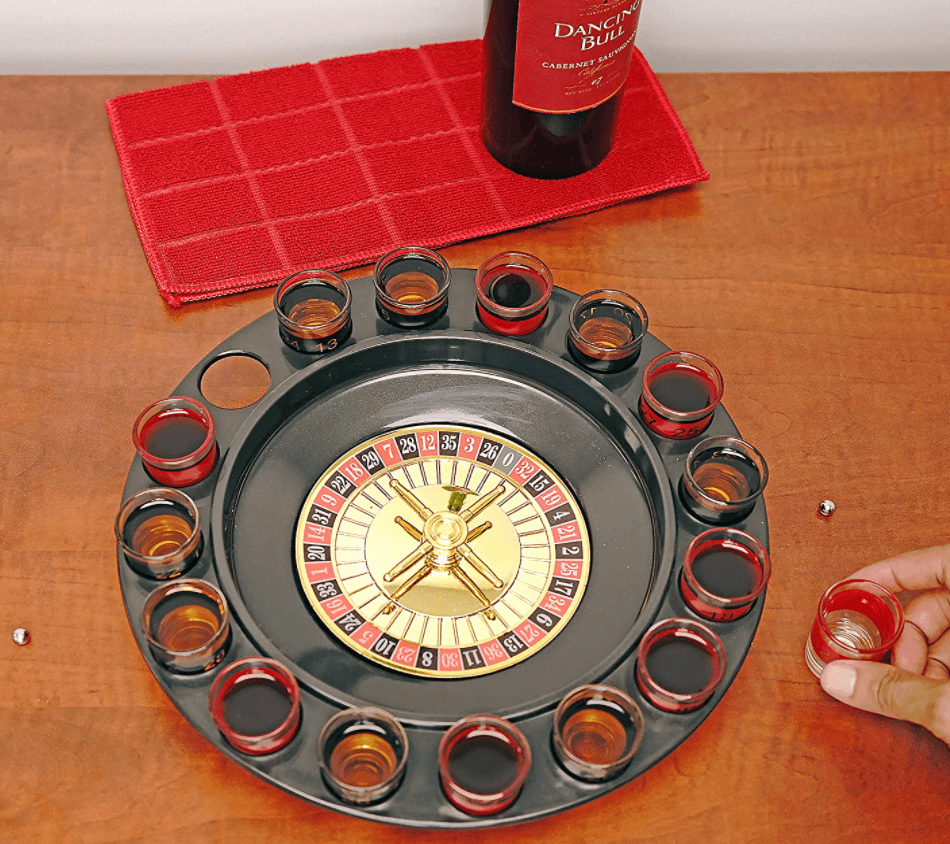 This is a gambling variation on your basic drinking game. It contains a 12-inch diameter roulette wheel, 16 shot glasses, and two metal roulette balls. You spin the wheel and whatever number the ball lands in indicates which shot glass you take a drink from. It's an adult game that will keep the party going or fill time between periods or quarters of the big game. It is suitable for between 2 and 8 players and will add something interesting to your party with no money required for wagering.
Pros:
– a fun party game for adults
– the shot glasses are all labeled with numbers so you can identify which one to drink from based on the roulette ball
Cons:
– no instructions
– some reviewers call this a poor drinking game alternative
10. YOption Stainless Steel Credit Card Size Beer Bottle Opener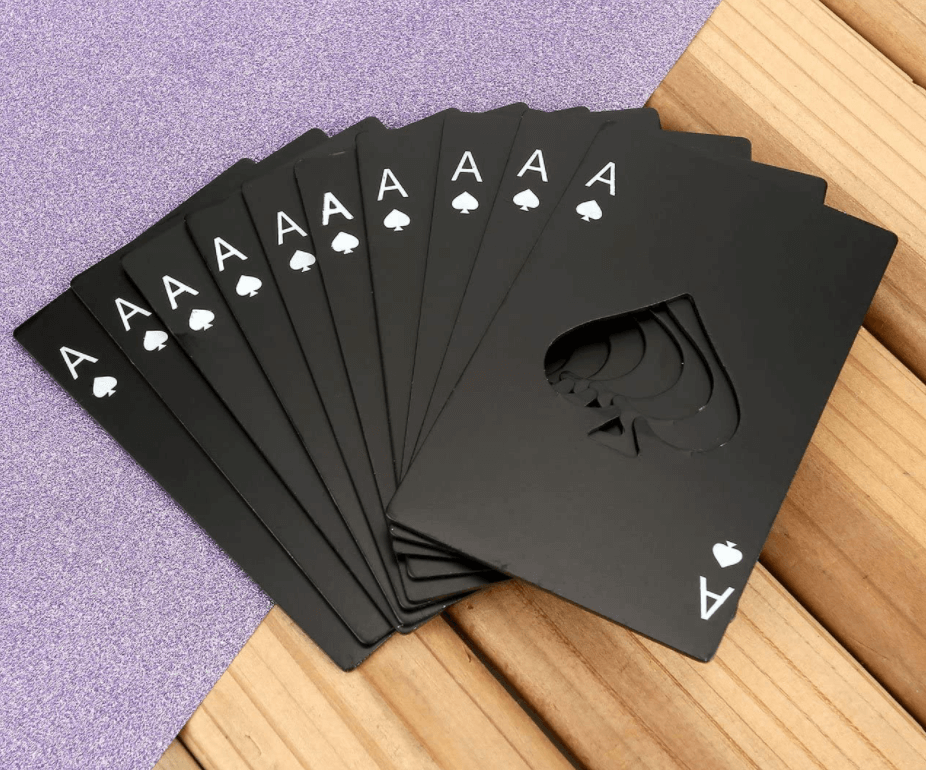 We've saved the most interesting gift idea for gamblers as our last entry. These beer bottle openers look like playing cards. They are black, made of stainless steel, and have the Ace of Spades on them with the spade in the center cut out leaving a spade-shaped hole. By positioning the bottle cap in just the right way, you can pop the bottle open. These unique bottle openers fit in your pocket or wallet and are sturdy enough to use over and over. You'll never use another opener again once you try one of these.
Pros:
– these look and weigh as if they were expensive items
– the bottle opener works amazingly well 
Cons:
– a reviewer states that storing one of these in a wallet will rust
– the painted steel cards tend to scratch easily showing wear and tear
Buy this YOption Stainless Steel Credit Card Size Beer Bottle Opener on Amazon here.
In Conclusion
There you have it! A complete list of some of the most incredible gifts for gamblers. Remember, when you are shopping for something to give that gambler in your life, try to match it up with their favorite casino game. This list represents several different casino game gift ideas that should inspire you when looking for that unique gift that represents the hobby of gambling. The odds are in your favor that you will find the right gift and hit the jackpot!