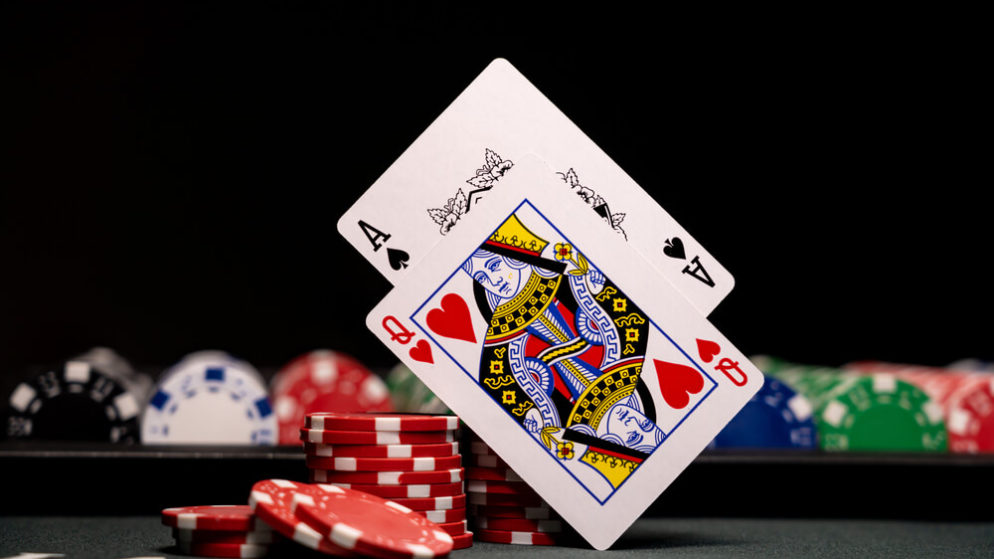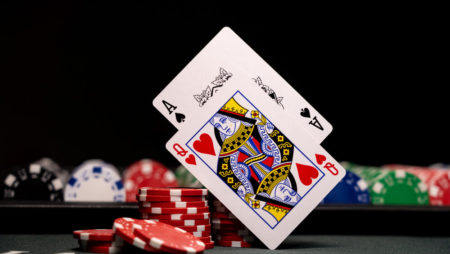 Whether you are a newbie looking to get your feet wet in the world of blackjack, or a seasoned player needing a refresher, there are plenty of great, enjoyable, and eye-popping books about the beautiful game of blackjack for you to read. In fact, there may be way too many different blackjack books to choose from that sometimes it can be tough for new players to find a good read.
Because of that, we've rounded up a list of the very best blackjack books for beginners, covering many different aspects of the game, such as basic strategy, rules, effective techniques for beating the casino, and the math behind blackjack. This crop of noob-friendly books on blackjack is brimming with practical advice, intriguing hacks, and much more, all curated to help you zoom from a naïve amateur to a pro player in a breeze.
1. Bringing Down the House by Ben Mezrich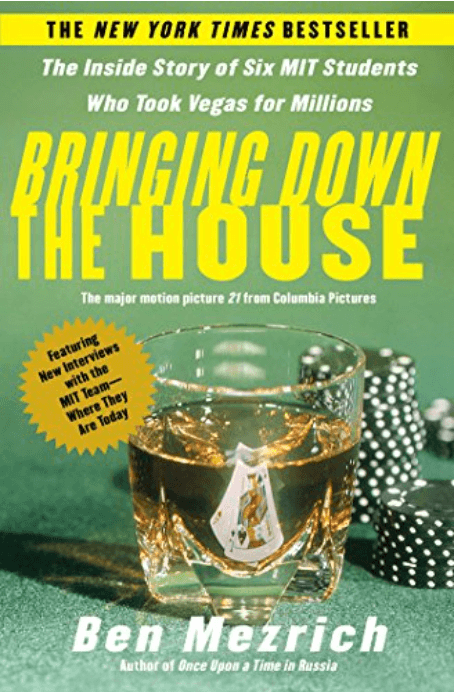 Let's kick off our list with a bit of inspiration. Reading books, articles, or news stories about ingenious blackjack players who have managed to beat both the game and the house can be a wonderful way to score a good dose of inspiration. And you'll need plenty of it as a newbie.
There isn't a better place to get that inspiration than Ben Mezrich's Bringing Down the House; an evergreen gambling book loved by veteran and rookie blackjack players alike. It tells the true stories of a group of MIT students who almost took Las Vegas casinos to the cleaners by counting cards while playing blackjack.
This blackjack title is so exhilarating and engaging that it reads more like fiction. Little wonder it was adapted into the box office record-breaking film 21 starring Kate Bosworth, Liza Lapira, Aaron Yoo, Kevin Spacey, and Lawrence Fishburne. 
If you enjoyed watching the Robert Luketic-directed movie, then you'll absolutely love reading Bringing Down the House — it's packed with even more adrenaline-gushing scenes, practical blackjack advice, and motivational lessons. 
The book itself will provide you with an opportunity to truly internalize betting strategies and feel connected to the game on a more personal level. It's never too early (or too late) to start learning how to count cards in blackjack, of course.
Wondering when it's best to surrender, hit, double down, stand, or split? You'll find all of the answers and then some in this book. Most certainly a good read for new players.
 Buy Bringing Down the House by Ben Mezrich on Amazon here.
2. The World's Greatest Blackjack Book by Lance Humble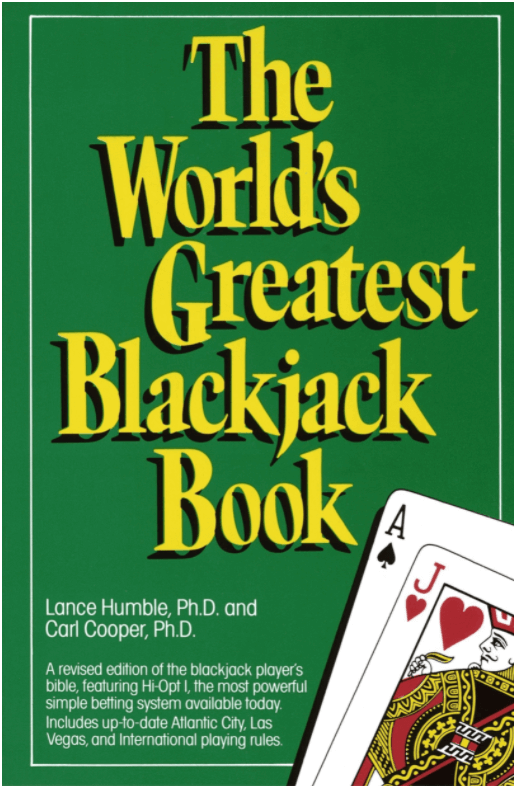 The World's Greatest Blackjack Book … what a bold claim to make, right? Turns out, this book by Lance Humble is indeed one of the best contributions to the literature of blackjack. In fact, it could easily be the most comprehensive beginner-friendly guide ever published on the subject, yet pros and seasoned players can learn a thing or two from it, as well.
Lance Humble is one of the most respected names in the casino blackjack scene, and through this book, he shares a bountiful number of tips, pointers, and strategies for new bettors. It will teach you a raft of cool strategies, such as how to leverage the Hi-Opt technique right from the outset to gain an edge over the house, how to count cards, and even how to win home games.
The blackjack book is as entertaining as it's educative, and beginners will appreciate that it's well written in an easy-to-understand lingo.  While it expounds on some of the most common terms in blackjack vocabulary, don't expect to see hard-to-grasp insider gambling terminologies in this title. Everything is set up such that beginners can learn the nitty-gritty of the beautiful game without being bogged down by the esoteric terms.
If you are looking for hacks and tips for popular variants like Blackjack Gold, look no further than The World's Greatest Blackjack Book. It's teeming with realistic blackjack lessons, including how to spot a vulnerable blackjack dealer, how to select the best online casino for blackjack play and tactics you can use to prevent being kicked out of casinos for winning too much. It's a true treasure trove of down-to-earth blackjack wisdom.
Remember, this title was first written back in 1987, so you might encounter a few awkward or dated strategies. The refreshed version sports beautiful and helpful illustrations that will make mastering the art of playing blackjack all the more enjoyable.
Buy The World's Greatest Blackjack Book by Lance Humble on Amazon here.
3. Winning Casino Blackjack for the Non-Counter by Avery Cardoza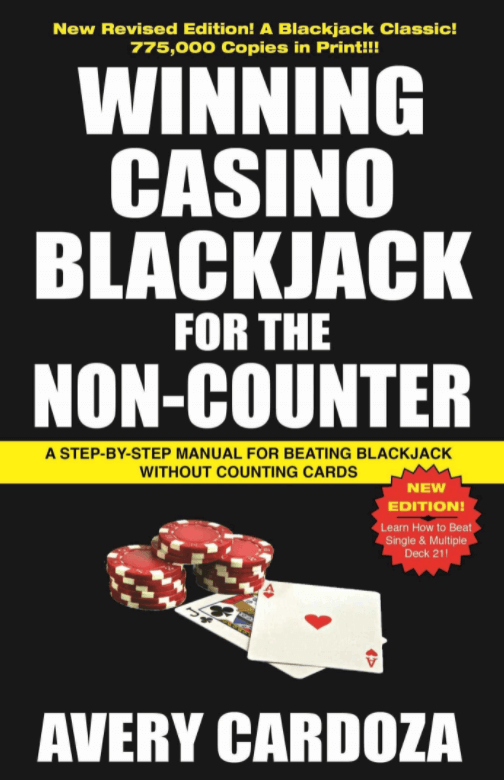 If it seems like every other book on blackjack is all about counting cards, you are not hallucinating. Card counting is perhaps one of the few tried and trusted strategies for beating the house at black, but it is not for everyone.
If you are a non-counter looking for a handy book for beginners, you should seriously consider Avery Cardoza's Winning Casino Blackjack for the Non-Counter. It is packed with simple, easy-to-understand techniques that you can use to gain an advantage over the house without resorting to counting cards.
The book centers on the theme of basic strategy coupled with small edges. It'll teach you how to use these tactics to play single-deck blackjack and come out a winner in the long haul, even if you still consider yourself an inexperienced player.
Unlike most other gambling books, this one provides tangible info and tips on getting started with online blackjack. It's a no-frills book that explains important rules like 6-5 insurance, secrets of bankrolling, and other winning strategies.
Buy this Winning Casino Blackjack for the Non-Counter by Avery Cardoza on Amazon here.
4. Basic Blackjack by Stanford Wong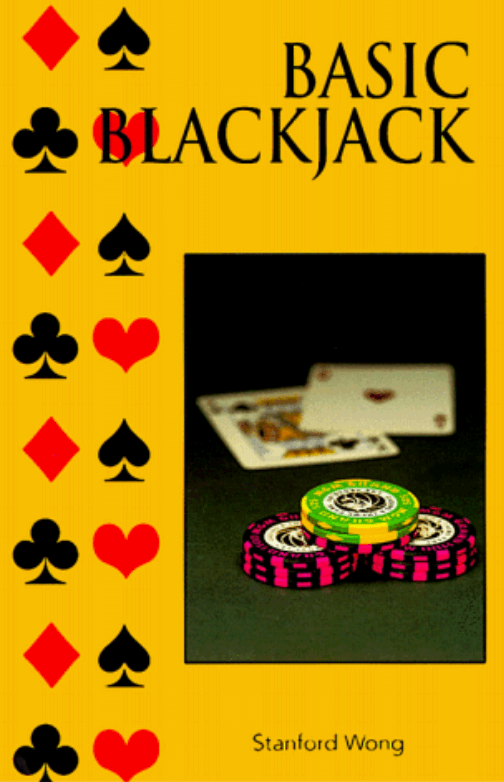 It's often said that blackjack is a game of skill, and Basic Blackjack by renowned gambling author Stanford Wong is the perfect resource to help you kick-start your skills. It covers exactly what the title says: the nitty-gritty fundamentals of playing blackjack. 
Although the book was published almost two decades ago, it covers basic strategy in a refreshing and easy-to-understand way. Wong teaches common variations in blackjack rules, such as what to do when the dealer hits soft 17, as well as how those rules vary depending on the size of the shoe.
The author also goes over special rule variations and how they should alter your expectation and playing strategy. However, in the final 3 chapters, he tends to veer off the basic strategy and provides info about warps, tells, and other border-line illegal tactics. Even so, Basic Blackjack is a solid book for new blackjack players looking to get started on the right foot.
Buy this Basic Blackjack by Stanford Wong on Amazon here.
5. Modern Blackjack by Norm Wattenberger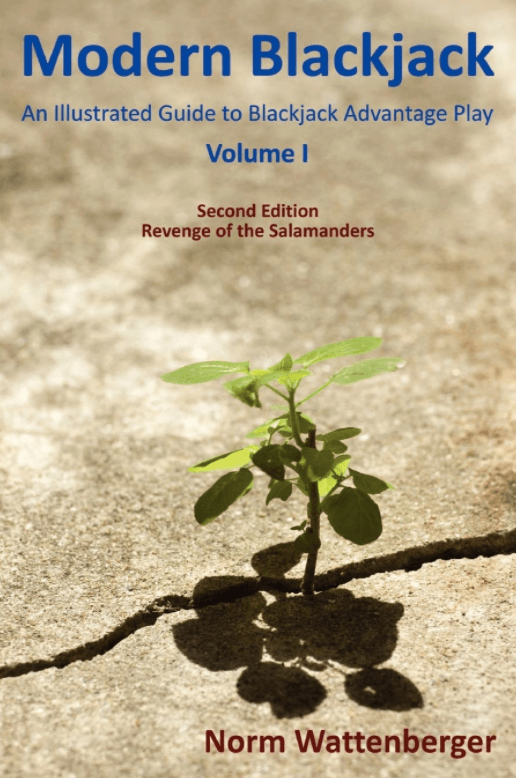 If you are on the market for a guidebook for blackjack that will serve you throughout your transformation as a player, then there's a Norm Wattenberger's Modern Blackjack with your name on it.  In this riveting book, Wattenberger will teach you everything you ought to know, from the basics to next-level strategies utilized by pro players.
This title is a simple compendium of helpful, newbie-friendly lessons on more than 100 rule variations, the latest in casino gambling, updated basic blackjack strategy, hole carding, and a comparison of existing strategies. It also looks to demystify certain blackjack techniques, all while clearing the air of some myths and scams going around in the blackjack space.
For those looking to get a head start on Spanish 21 hole carding and brush up on team play, this is a book that you won't put down once you start reading.  Modern Blackjack goes into great detail and expounds on various topics that will interest you as you graduate from a rookie to an intermediate player and finally get that pro badge.
Buy this Modern Blackjack by Norm Wattenberger on Amazon here.
6. Big Book of Blackjack by Arnold Snyder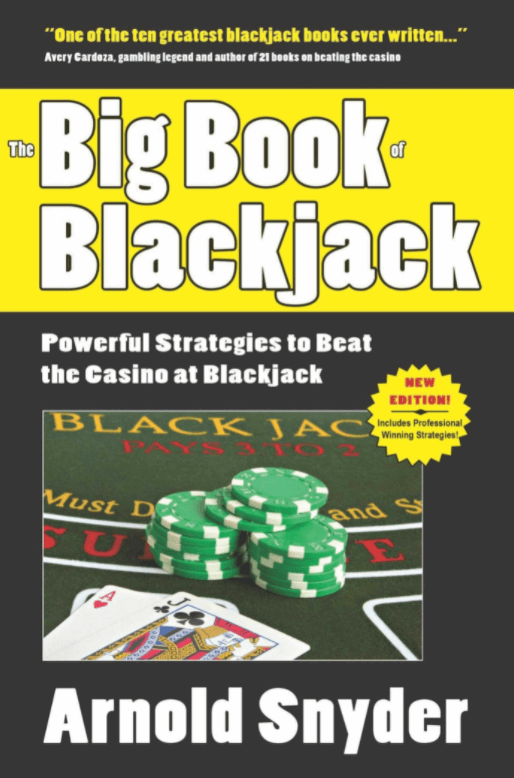 The best people to teach blackjack to new players are those who have proven their mettle and conquered the game —and none can fill that role better than the Blackjack Hall of Famer, Arnold Snyder. Snyder details everything beginners, and seasoned players need to know to beat the blackjack game in this inspirational book.
Although it is touted for players of all skill levels, we highly recommend Big Book of Blackjack to novices. With more than twenty-seven chapters brimming with insights, it covers a huge range of topics. Yet, the content itself strikes a balance between fun and informative, helping new players learn without being overwhelmed and, if they're lucky, maybe get a profit.
What we love the most about this book is its laid-back approach to the game. It offers a blend of theory, history, and practical knowledge that will come in very handy when getting started with the game. Big Book of Blackjack is also packed with bonus content, including cheat sheets and an interesting take on the Red 7 count betting system, which is another nifty strategy novices can stand to master right out of the gate. 
Buy this Big Book of Blackjack by Arnold Snyder on Amazon  here.
7. Blackjack Bluebook by Fred Renzey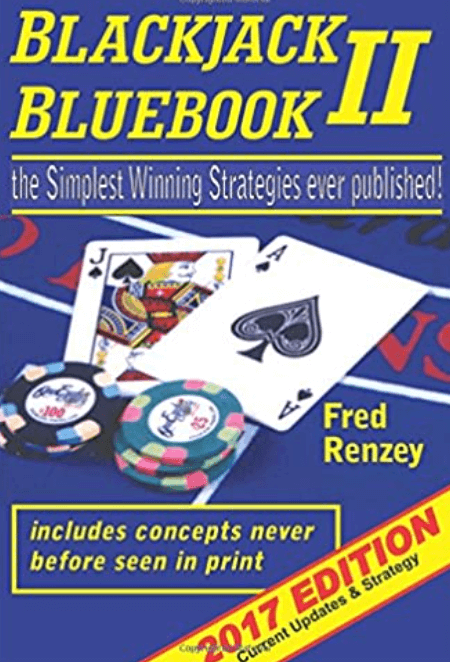 Blackjack Bluebook is a series of blackjack books; however, the second volume — Blackjack Bluebook II: The Simplest Winning Strategies Ever Published, which was initially published in 2017 — is one of those must-have reads for every new blackjack player. In this title, Fred Renzey teaches players how to convincingly play and win at the game of blackjack.
While this volume is not geared towards absolute novices, Blackjack Bluebook II: The Simplest Winning Strategies Ever Published should be on your to-read list once you make some inroads in terms of the basics of the game. 
Renzey is an avid casino player, and his advice comes right from his real money play, which speaks volumes of his tactics and explanations. If that sounds like your cup of tea, be prepared to be delighted and educated by 225 pages of insider tips, a little bit of digression, and a lot more on basic concepts like odds, negative/positive betting systems, counting cards, insurance, card shuffling, and much more.
Buy this Blackjack Bluebook by Fred Renzey on Amazon here.
8. Blackjack Blueprint by Rick Blaine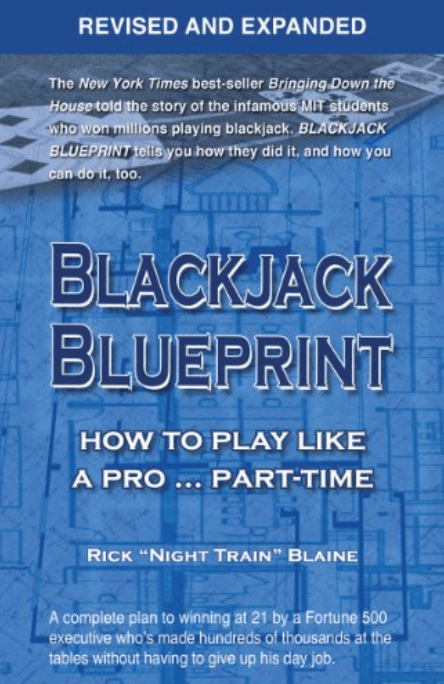 While it is thought to be outdated, Rick "Night Train" Blaine's Blackjack Blueprint still holds its water as the true blackjack bible. The book was authored by the blackjack's mad dog himself, and it teaches us skills that are particularly helpful for newbies. 
First published in 2005, this title is jam-packed with easy-to-digest information on everything you need to know about the game and how to mint profits playing blackjack. It introduces new players to basic strategy, shuffle tracking, optimizing potential, card counting, casino comps, blackjack tournaments, and playing anonymously.
The refreshed edition packs even more insights on practical stuff like getting rebates on blackjack losses, disguising chips, hiding wins, protecting your personal privacy at online casinos, reducing the risk of identity theft, and much more. All in all, Blackjack Blueprint is exactly what the title says – a blueprint for getting started with the game of blackjack.
Buy this Blackjack Blueprint by Rick Blaine on Amazon here.
9. The Theory of Blackjack by Peter A. Griffin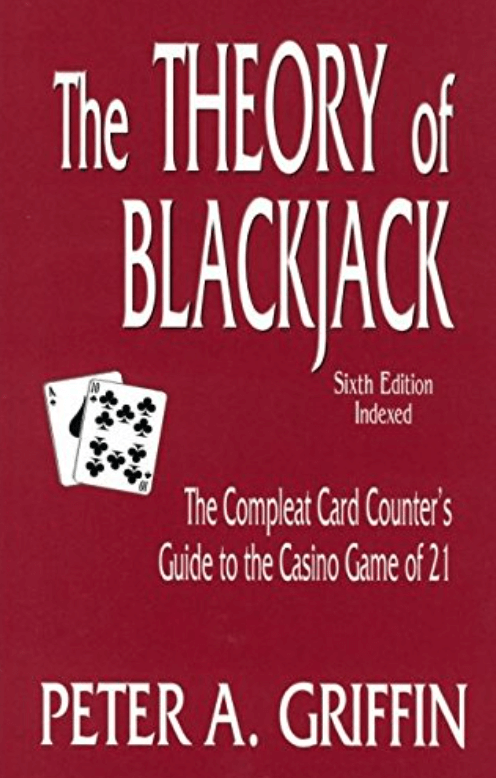 What exactly is the deal with blackjack? What's the math behind the game, and is it really a game of skill or chance? Give it to Peter A Griffin to beautifully, expertly, and gradually unravel the theory of the game of blackjack with The Theory of Blackjack: The Complete Card Counter's Guide to the Casino Game of 21.
Don't expect this book to be all about the theoretical part of the game. It also teaches newbies the basic strategy, such as when to measure, hit, split, and double down your play depending on the upcard of the dealer. As if that isn't awesome enough, The Theory of Blackjack also touches on card counting, shuffle tracking, and analyzing your betting system.
Buy The Theory of Blackjack by Peter A. Griffin on Amazon here.
10. Play Blackjack Like the Pros by Kevin Blackwood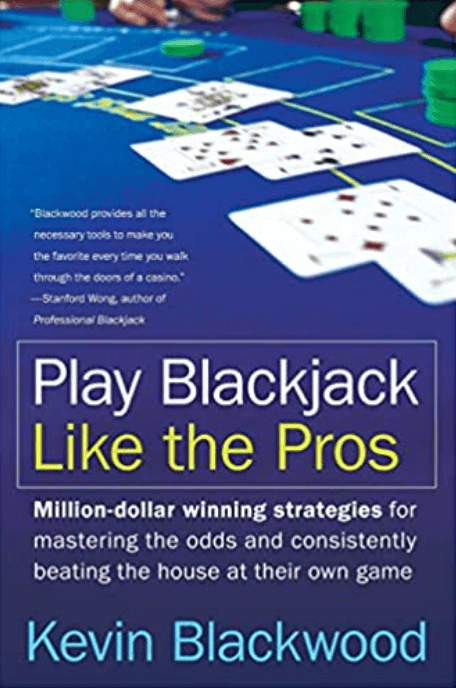 Don't let the title fool you;  Play Blackjack Like the Pros was crafted with total beginners in mind. In this starter guide, Kevin Blackwood teaches you how the game of blackjack is set up and played, including the odds of different variations. He also introduces players to straightforward strategies he used himself to consistently beat the game and the house.
As a well-known successful card counter, Blackwood also describes the tactics he uses to effectively and discreetly count cards. He delivers the content in a rich, entertaining, and super engaging manner, which helps newbies absorb his advice with ease. As a bonus, the foreword was written by the master card counter and renowned author of Professional Blackjack, Stanford Wong.
Buy this Play Blackjack Like the Pros by Kevin Blackwood on Amazon here.