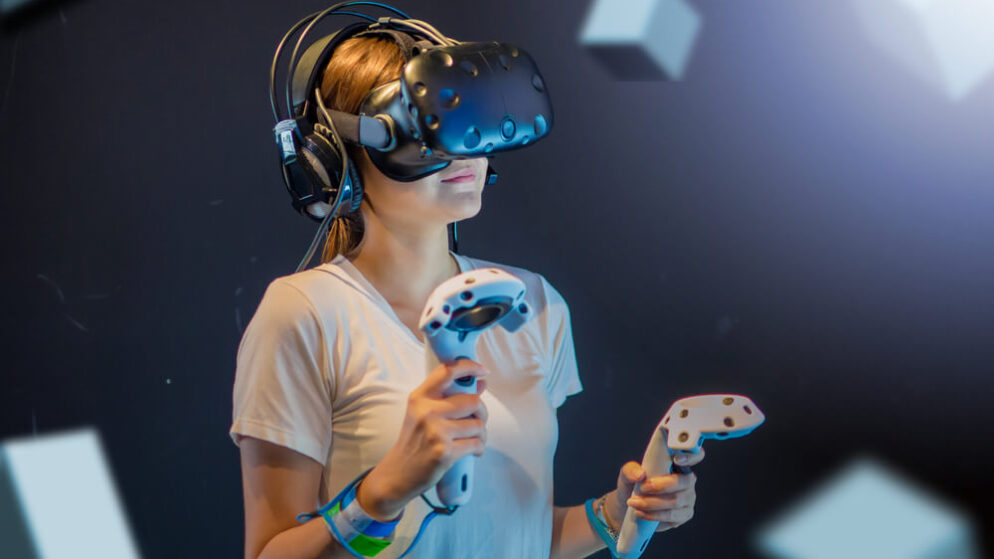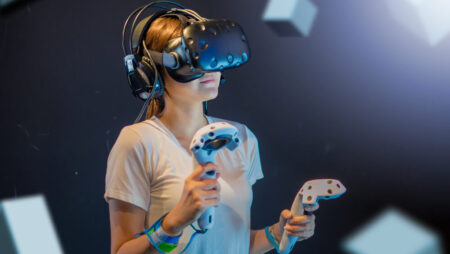 Flutter Entertainment recently announced that it would be rebranding its PokerStars VR platform ahead of its 5th anniversary. Moving forward, the brand will now be referred to as Vegas Infinite. This significant rebrand is expected to transform the virtual reality gambling realm as we know it.
As PokerStars VR approaches its 5th anniversary, the shedding of its old skin is anticipated to create immersive experiences that transcend the boundaries of traditional online gambling. PokerStars VR first launched the PokerStars VR in 2018, it was a pioneering venture in the virtual reality poker sector.
This new platform could transport gamblers into a lifelike environment where poker wasn't just another casino game but a gambling experience to live for. When it launched, still in its closed beta-testing phase, there really wasn't anything like it for poker players. Players could manipulate their cards and chips, take part in banter with virtual tablemates, and even throw items across the table.
The potential for this new platform was always clear, however, the path to its full realization wasn't smooth sailing. During its early stages, virtual reality in the betting sector was akin to exploring unchartered territory. The visionaries at PokerStars, which has now been reimagined as Vegas Infinite under Flutter Entertainment's umbrella, envision a future where betting transcends the limitations of conventional online casinos.
The allure of creating an immersive, realistic casino experience for online gamblers was magnetic, managing to attract developers, designers, as well as gambling enthusiasts into the virtual reality space. Yet, as with any groundbreaking tech, challenges abound.
One of the biggest hurdles was the technology itself. VR hardware, although groundbreaking, was still relatively immature. When PokerStars VR launched, the headsets that customers were exposed to were bulky, costly, and not optimized for extensive use. As you can imagine, these challenges posed a considerable barrier to entry.
Additionally, the potential customer base was largely limited to those who could afford high-end VR equipment, restricting the immersive experience to only a small group. The VR landscape was, and still is, going through rapid transformation. New iterations of VR headsets, enhanced graphics, as well as improved intractability became the standard.
As such, PokerStars VR had to maintain the pace with these advancements, not just as a means of remaining competitive but as a way to make sure that its customers experienced the best. In order to deliver this experience to customers, PokerStars had to continually evolve, which demanded considerable investments in research, development, as well as collaborations with experts.
Plus, the very nature of VR betting brought additional challenges. Responsible betting, a keystone of any respectable betting platform, took on a new component in the virtual world. Making sure that the customer's well-being and mental health were safeguarded became of vital concern. 
Flutter Entertainment, owing to its commitment to player safety, was forced to come up with innovative solutions. This led to the integration of new safety features including voluntary timeouts, as well as spending limits within the platform.
There was also the small challenge of content diversification. While the original concept of VR games revolved around poker, the industry's appetite for more variety continued to grow. Players started looking for an array of gambling experiences from traditional card games such as roulette and blackjack to never-before-seen adventures such as Rocket Rush.
Adapting to this shift meant creating a new hub of entertainment where every punter's desire could easily be satisfied. Although the journey has not been easy, it is precisely these challenges that have continued to fuel innovation. Flutter Entertainment undiscouraged by barriers, dove deeper into the spheres of creativity and technology.
The result of these efforts has been evident because Vegas Infinite stands as a testament to human originality. This new platform personifies the spirit of modernization and resilience, showcasing what can be achieved when minds converge. In overcoming the challenges discussed above, Flutter Entertainment not only created a game but also birthed a revolutionary gambling experience.
What new developments can fans expect on the new platform?
PokerStars Director of VR & Innovation, James O'Reilly, recently voiced his amazement at the journey that PokerStars VR has been through since 2018. Today, Vegas Infinite isn't confirmed to poker tables. Today, the game is an expansive universe consisting of diverse gambling experiences that include games such as slots and craps.
But the innovation hasn't stopped there. Vegas Infinite's latest developments extend beyond the casino games available.  Within this platform, players also have access to personalized suites, dressing rooms, VIP-exclusive casinos, as well rooftop lounge areas.
Recognizing that the gambling community is becoming more diverse than ever, Flutter Entertainment has also made strides to make the VR platform available to a larger audience. Today, Vegas Infinite is available on highly sought-after platforms such as Meta Quest VR, as well as Stream VR. This means that players without specialized VR headsets can take part in this virtual performance.
While the allure of these new features remains undeniable, Flutter Entertainment also remains committed to responsible betting. Despite being a free-to-play platform, the company has integrated several new safety tools to address the risk of problem gambling among its users. Today, vulnerable punters have access to several tools including mechanisms to report their concerns and tools that enforce spending limits.
Beyond the virtual reality sector, Flutter Entertainment continues to experience unprecedented success. During the first half of this year, Flutter's operations in the YS reported a staggering 63% increase in revenue, cementing its place as the fastest-growing division within the company.
Important strategies that the brand has made include expanding into new markets including Maryland and Ohio, which has helped to boost revenue streams. Additionally, Flutter received shareholder's approval in April to list the company on the US stock exchange, which signifies a promising future, ushering even more growth and innovation for the company.
Final Thoughts
Over the years since its debut, Flutter has continued to push the boundaries of this immersive gambling environment. What was originally a poker-centric universe has now blossomed into a multifaceted gambling spectacular. Thanks to invention, responsible gaming practices, and a great understanding of customer needs, Flutter continues to redefine the gaming landscape.