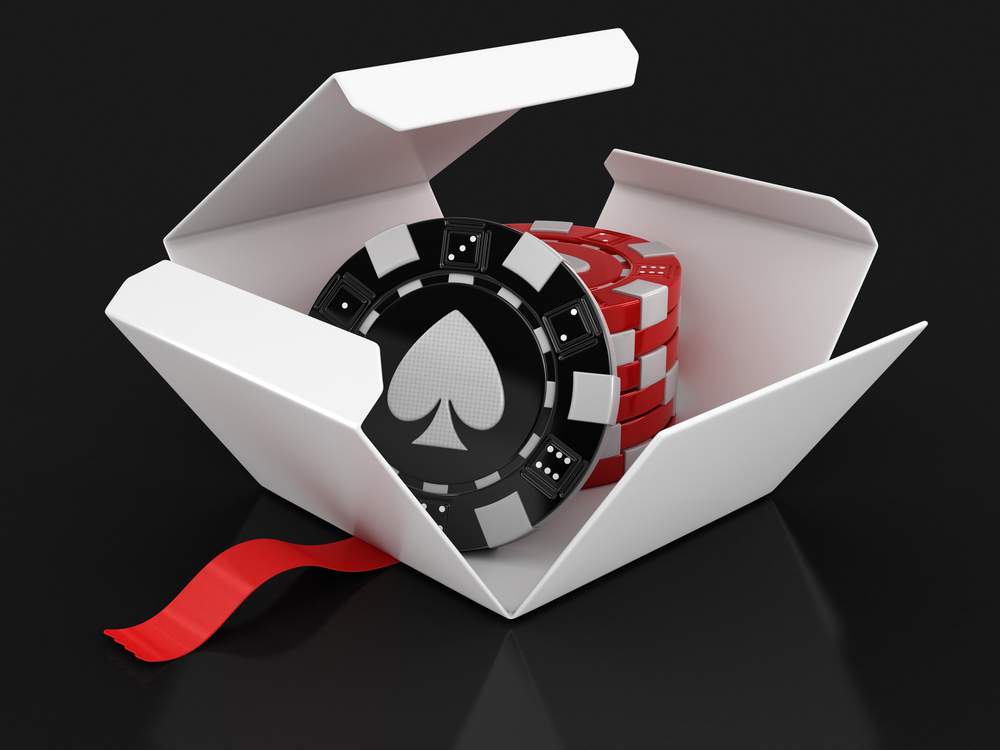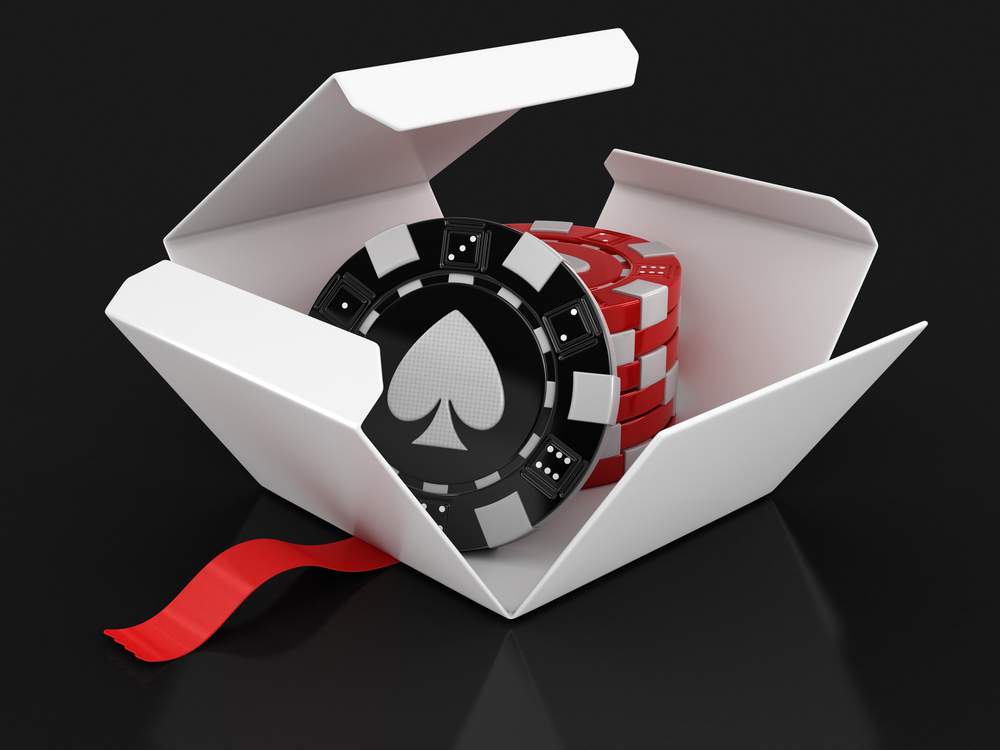 Poker players sometimes seem like men/women out of time — or from another planet. At home in dark, smoke-filled, boozy rooms where lesser mortals feel like the walls are closing in, they stake their money on an intoxicating blend of sharp skill and blind luck.
They carry with them the whiff of an outlaw. After all, gambling is illegal in many parts of the world and has its outspoken cultural critics everywhere in the world.
You could imagine your poker-playing friend in cowboy getup, playing in an old-west saloon, trigger fingers at the ready if the gunslinger across the table accuses him/her of cheating.
Or, perhaps, tuxedoed up, Bond style, beside elegantly clad and bejeweled women, all vying to gather the most chips at the table.
Their travel bucket list includes places like Macau, Monte Carlo, Singapore, and Aruba. They follow the World Series of Poker the way the rest of us follow the Super Bowl, the World Cup, or the Oscars.
In other words, shopping for the poker player on your gift list can feel like shopping for an extraterrestrial. Who are they? What makes them tick? What will they not return in disgust?
The first thing to understand is that poker is a lifestyle, not just a hobby. To a hardcore player, poker is a metaphor for life. Sometimes you're up, sometimes you're down. There's always a tactic to learn, a skillset to sharpen, but so much depends on the luck of the draw. 
And as some guy once said, you've got to know when to hold 'em … and know when to fold 'em.
If your poker playing friend or relative aspires to make extra income or even a full-time living off the game, his/her life is not all private jets and Lamborghinis. Instead of playing video games or catching up on The Mandalorian, he/she is grinding it out at multiple poker tables or online poker rooms every night, often sacrificing money, comfort, and sleep in pursuit of a dream.
The ideal gift for a poker player not only honors their passion, but makes an intense lifestyle a little more lighthearted, fun, and comfortable.
Here are 25 amazing gift ideas for poker players:
1- Lavley All In Poker Men's or Women's Dress Socks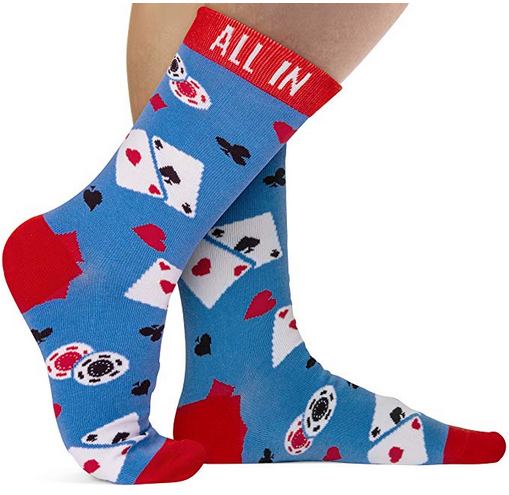 Everybody needs more socks, and themed socks make a perfect gift for enthusiasts of any hobby or profession, including poker. Lavley has you covered with these dress socks, suitable for men or women, decorated with playing cards and card suits, with the words "All In" embroidered on the cuff. 
Lavley socks are one-size-fits-most, made from a premium cotton blend that doesn't fray even after multiple washings. 
2- Donkey Spinning Poker Weight Decision Maker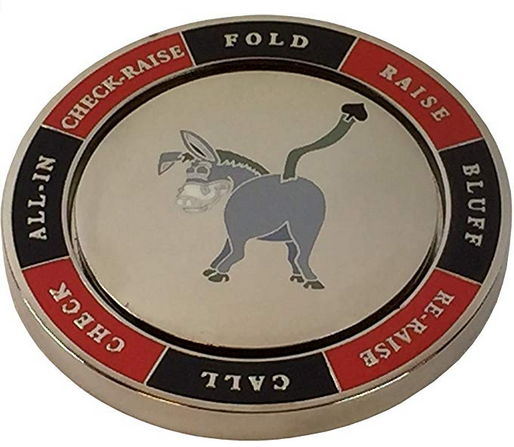 This spinning poker weight is a fantastic "ironic" gift to give to a poker lover. It's ironic because no self-respecting poker player makes decisions based on a "wheel of fortune" spin. But that's what makes it funny. 
Plunking this novelty weight down at the poker table and even giving it a spin or two will get huge laughs, and maybe even get into the heads of the player's opponents by adding an extra layer of unpredictability to the recipient's gameplay.
The Donkey Spinning Poker Weight Decision Maker features a spinning inner disk with a donkey's tail as the pointer. Each spin can land on one of eight poker plays: fold, raise, bluff, re-raise, call, check, all-in, or check-raise.
3- I Bought This Shirt With Your Money Adult Humor Graphic Novelty Sarcastic Funny T Shirt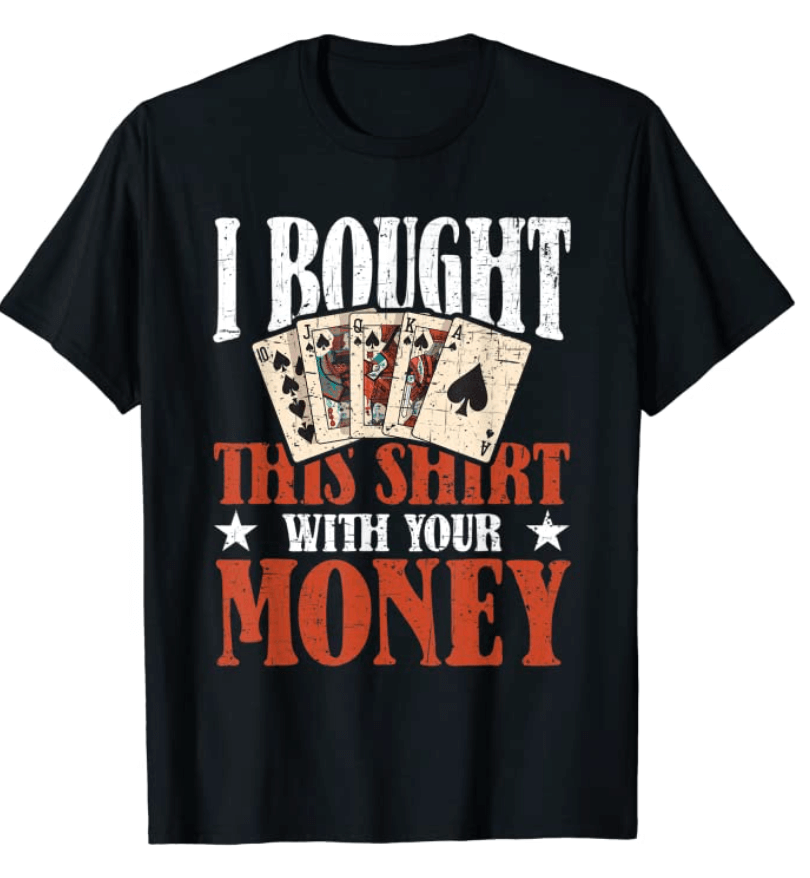 This novelty t-shirt by Gifts Fort Poker Players expresses a sentiment that many poker players can probably relate to: "A day without poker probably won't kill me … but why take the chance?" Seriously, many pro poker players have to have the discipline to play every day. This t-shirt gives them the chance to make a light joke about it.
Made of 100% pre-shrunk cotton, Gifts For Poker Players shirts come for male and female.
4- Tumbleweed Cottage Creek Poker Gifts Round Ceramic Poker Money Jar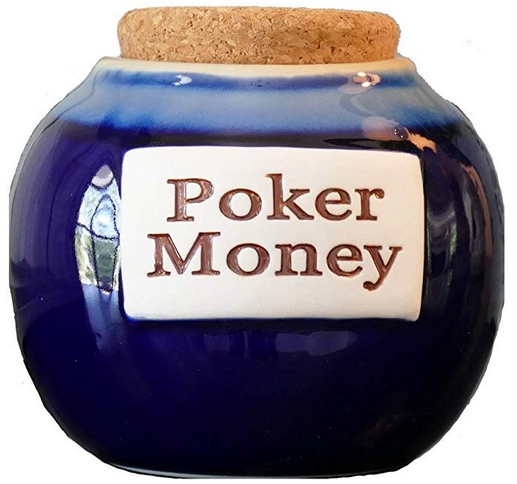 This money jar, made of kiln-fired glazed ceramic with a cork stopper, can can serve one of two purposes:
As a joke bankroll for a professional poker player who bets big money.
As a real bankroll for a hobbyist poker player to squirrel away loose change and bills to use as poker wagers.
Either way, it announces the recipient as the kind of person who puts his/her money on the line at the poker table with gusto. 
5- JoyJolt Poker Whiskey Stones Gift Set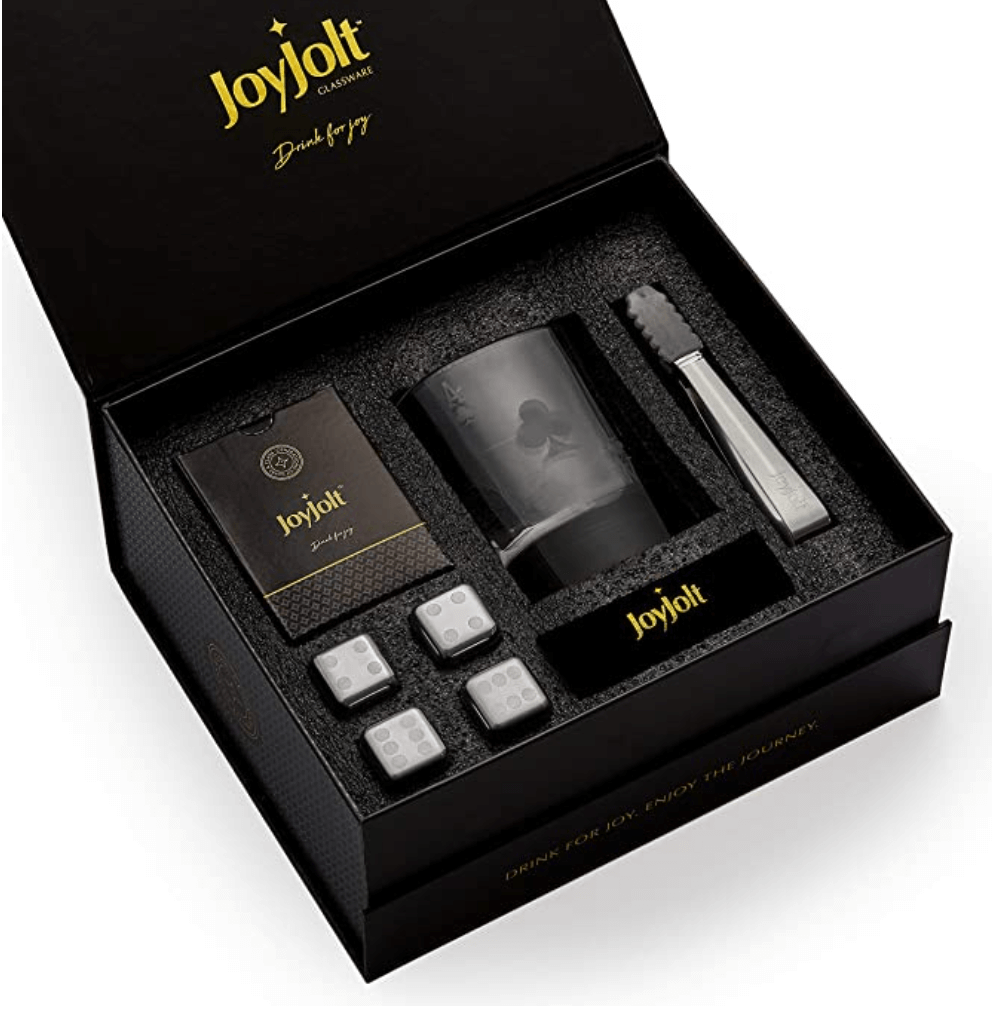 Whiskey is a big part of poker culture. Chances are, the poker player on your gift list loves bourbon, rye, scotch, or all of the above.
Whiskey stones keep fine whiskey chilled without watering it down like a melting ice cube. JoyJolt packages a set of eight whiskey stones, decorated with playing card suits, in one exquisite set. It includes tongs, two rocks glasses, two leather coasters, and a six-ounce hip flask, all decorated in a "Texas Hold'em" poker theme. It all comes packaged in a beautiful, easy-to-gift wrap, dark-stained wooden gift box.
Made from food-grade stainless steel, JoyJolt whiskey stones do not taint the flavor of your whiskey and are ready for use after only a few hours in the freezer.
6- YKLWORLD Casino Poker Dice 3D Lamp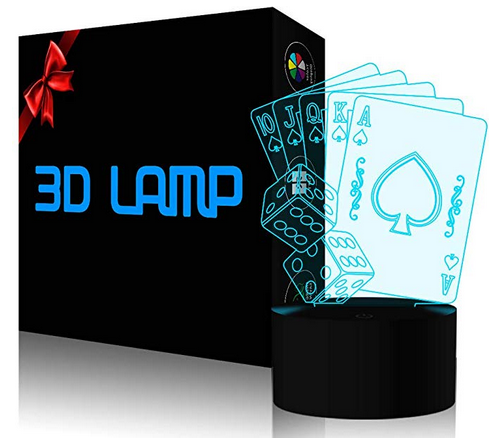 YKLWORLD makes a series of 3D LED optical illusion night lights that add tech-forward flair to a bedroom, bar, or office.
One of them comes in a playing-cards-and-dice casino theme. It's a cool, unusual gift that your poker-playing loved one probably hasn't thought of. It would add great ambiance to his/her game room or poker night decor.
The acrylic LEDs toggle between eight color options—cyan, blue, green, red, white, yellow, purple, and flashing mode. The unit comes with a 100% satisfaction guarantee.
7- Stuck in Glass The Original Whiskey Glass Embedded with a Casino Chip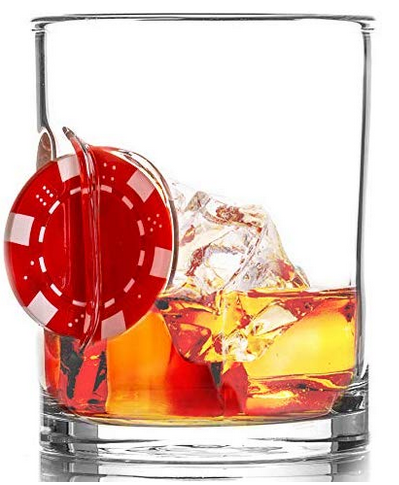 Ready for a refill? Stuck in Glass includes, in its line of cool customized drinking glasses, a rocks glass with a poker chip embedded into it. You can choose either a red or black poker chip. Of course, the chip is embedded into an indentation in the hand-blown glass, with the chip free-floating in the indentation.
Stuck in Glass gifts come with a 100% satisfaction guarantee.
8- Poker Weight Triple Spinner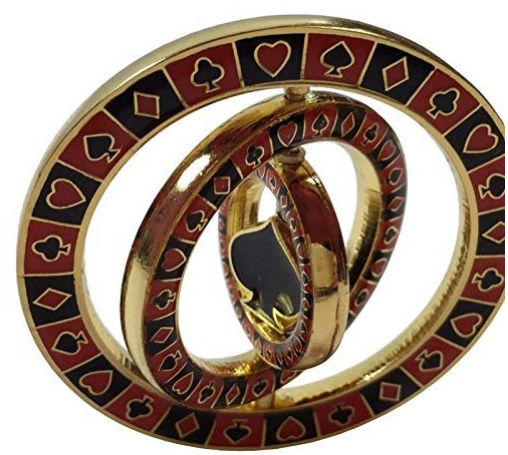 This two-inch-diameter Poker Weight Triple Spinner makes a great gift for a poker player. The three inset rings spin independently, decorated by playing card suits and organized around a spinning playing card spade in the center.
9- A Gift Personalized Poker Set Case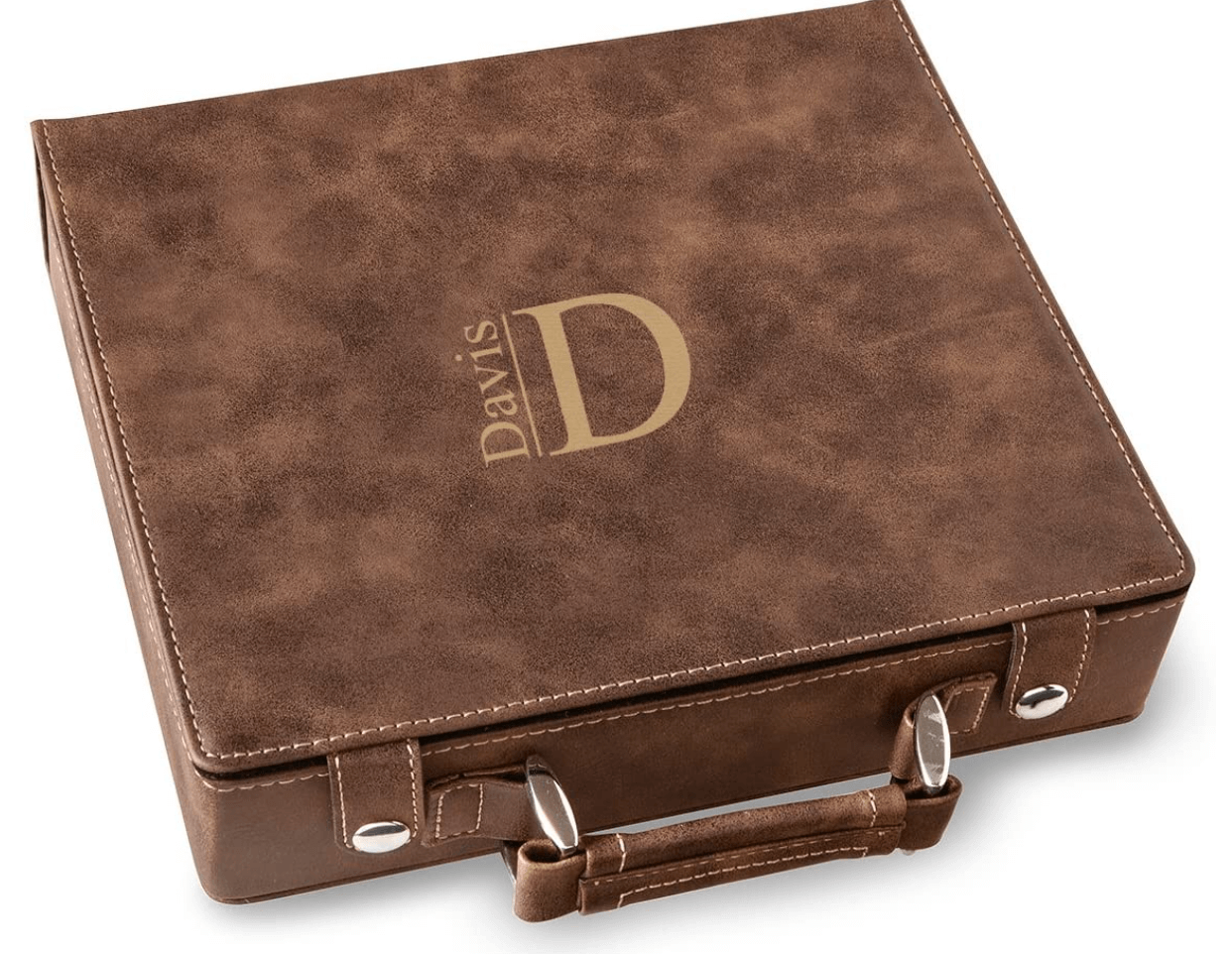 Whether the poker player on your gift list is an amateur or a professional, a new poker set never disappoints. This poker set by A Gift Personalized Store measures eight inches by nine inches and includes two playing card decks, 100 professional heavy clay chips, and five style and color options. The set also comes with free custom, high-contrast engraving.
10- 3dRose Playing Cards Photography-Deck of Cards Coasters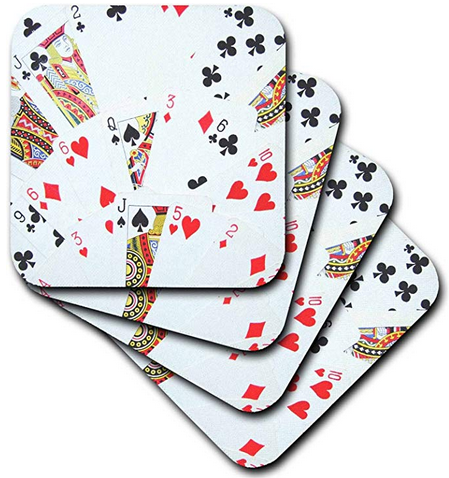 Did we mention how many poker players like bourbon? A chilled bourbon on the rocks tends to attract condensation, which dampens poker tables and dining room tables alike. Help your poker-playing loved one express him/herself and protect those surfaces with this set of four coasters decorated with playing card photographs. 
As an added bonus, these coasters are environmentally-friendly, made from recycled rubber. Each of these soft coasters is 3.5 inches on each side, perfect for a rocks glass.
11- SW Poker Card-Guard Coin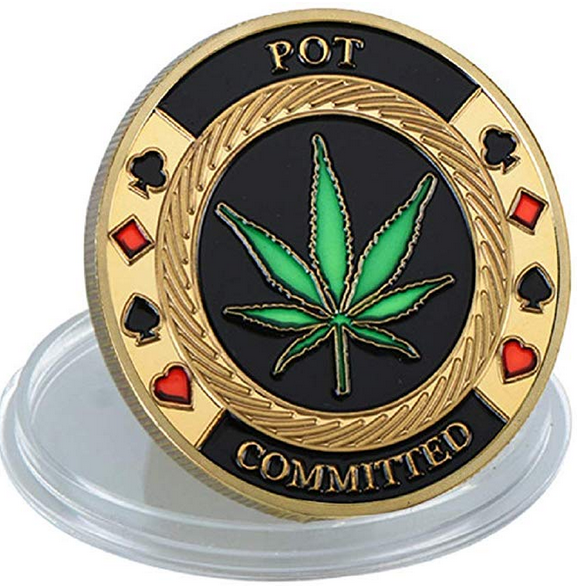 Does your poker-playing loved one also, perchance, enjoy cannabis? Hey, poker is a tough calling, and pro poker players take their wellness where they can get it. This collectible card-guard coin by SW features a cannabis leaf and the helpful slogan "Pot Committed." That's how we like our entendres—doubled.
12- Hoyle Poker Waterproof Playing Cards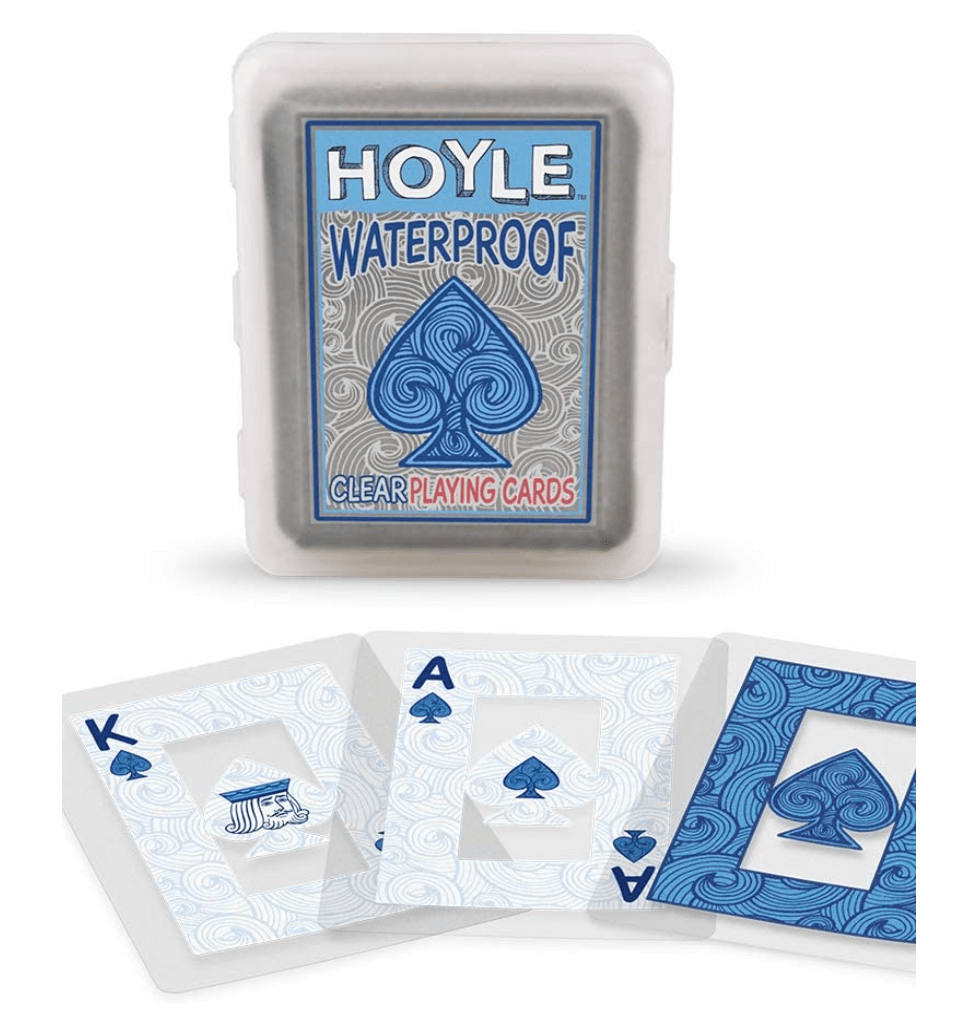 One of the most important skills a professional poker can learn is to recognize "tells"—body language that an opponent might exhibit that betrays how good of a hand they are holding. Hoyle offers just that—training flashcards disguised as playing cards, which aspiring card sharks can use to learn to recognize common tells.
Just like a normal deck of cards, the Hoyle deck includes 52 flash-cards, color-coded for easier memorization. The cards also include an explanation of the psychological reasons behind each tell. The high-quality cardstock shuffles easily so your recipient can drill down.
13- MasterPieces Poker Tiles Game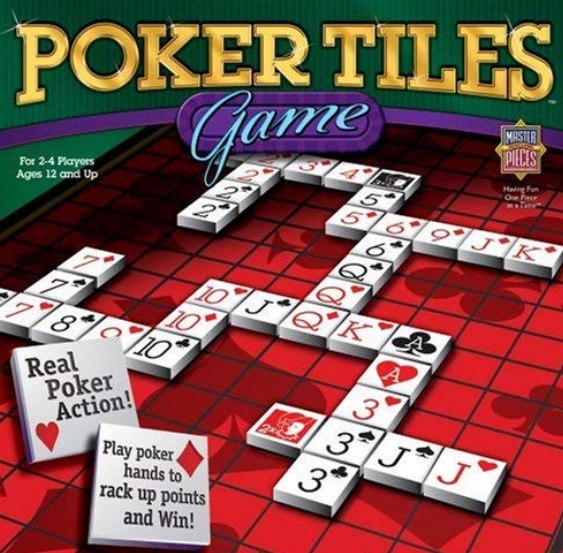 One thing you can infer about the poker lover in your life is that they love games. Another thing you can infer is that many of their friends or relatives do not share that love of poker. This can be awkward at game night—the recipient keeps proposing poker, everyone else wishes they could propose anything else for a change.
Spice up their game collection with this approachable, poker-themed cross between Scrabble and Dominos, produced by MasterPieces. This allows your poker-playing loved one to switch up game night and make their non-poker-playing loved ones (possibly including you) feel welcome. 
14- theory11 Artisan Playing Cards Luxury Set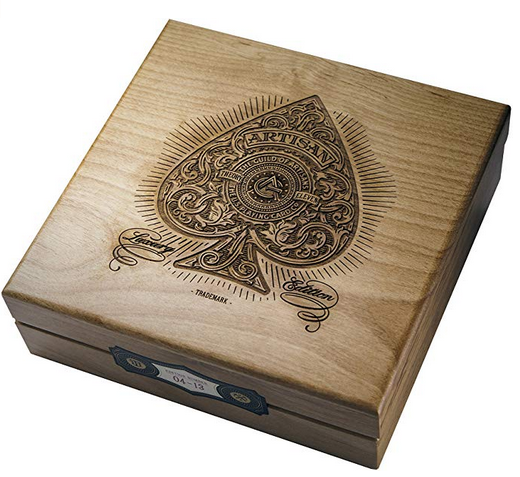 Not all decks of cards are created equally. They may feature the same suits, colors, and selections of 52 cards, but a serious poker player doesn't want to go through their entire life with the same deck of drug-store Bicycle cards in their pocket.
Kick up your loved one's card game with this luxury artisan playing card set by theory11. This special-edition stained wood box is easy to gift wrap and sealed with a red tax-stamp. Inside are four gold foil embossed decks of cards, each card exquisitely designed and printed on high-quality durable cardstock that shuffles like butter.
15- Sofia's Findings Personalized Poker Chip Set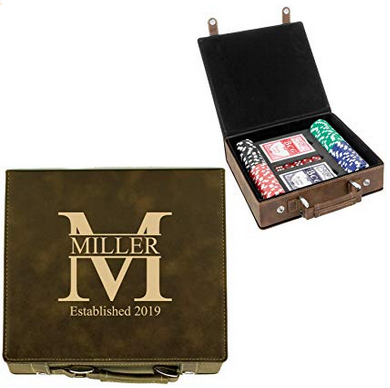 Here's another great customizable, monogrammed engraved poker set from Sofia's Findings. Easy to gift wrap at just under 9 inches by 8 inches, it comes in three classy colors and includes five dice, two decks of cards, and 100 casino-grade chips. Made from faux-leather, it seals with two snaps. The perfect choice for showing up to poker night in style. 
16- Poker Player Texas Hold'Em Gift T-Shirt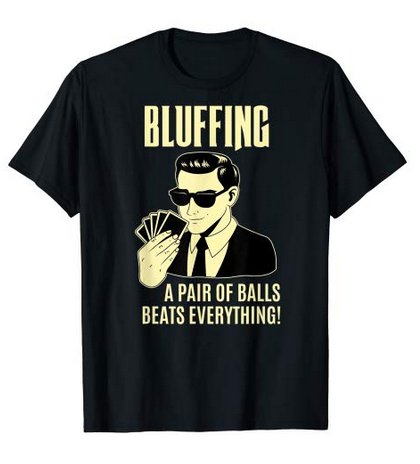 This novelty t-shirt reads "BLUFFING: A Pair of Balls Beats Everything." Available in ten colors, it is available in both men's and women's styles. 100% pre-shrunk cotton in solid colors; a mix of cotton and polyester in heathered colors.
17- 3dRose Ace of Spades Playing Card Mug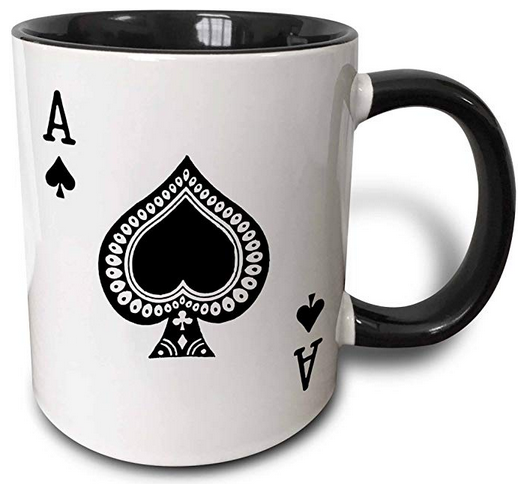 A poker player cannot live on bourbon alone. Coffee plays an important role as well, especially when it comes to all-night games and poker tournaments. Add personality to your recipient's coffee game with this Ace of Spades Playing Card coffee mug from 3dRose. Printed on both sides with a high-gloss finish, this 11-ounce ceramic mug is dishwasher- and microwave-safe.
18- Essential Poker Math, Expanded Edition: Fundamental No-Limit Hold'em Mathematics You Need to Know by Alton Hardin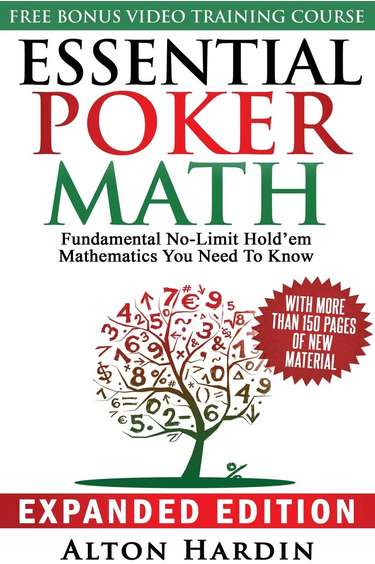 Give your poker-playing loved one the gift of education. There is both an art and a science to professional-level poker gameplay. #1 Amazon best-selling author Alton Hardin breaks down the hard math a player has to know to build a winning no-limit hold'em strategy. Founder of the MicroGrinder Poker School online, Hardin has been featured on the nationally syndicated radio show House of Cards.
19- Poker Empire Gold Plated Metal Dealer Button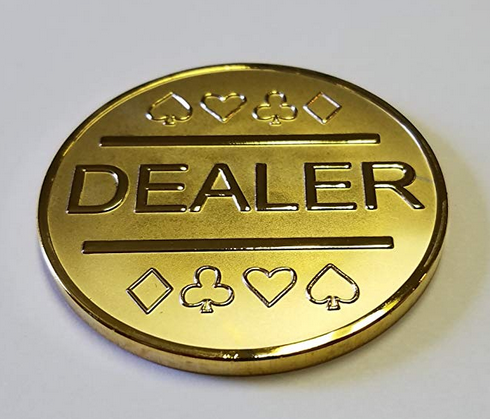 Poker players use a dealer button to indicate which player is taking his/her turn as the dealer for this hand. Poker Empire makes this classy, gold-plated dealer button. Give it as a gift to your poker-playing loved one so they can add a touch of bling to poker night and always keep track of who's dealing. 
Two inches in diameter, this dealer button has a satisfying weight in the hands and fits easily in most poker sets, as well as most Christmas stockings.
20- Erazor Bits Collectible Poker Decals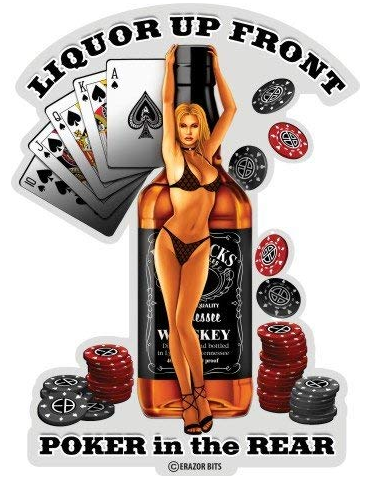 For the poker player who loves car decals and raunchy jokes and is unashamedly sexist, this collectible decal by Erazor Bits features a classic double-entendre joke, advising readers as to the relative location of the "liquor" and the "poker," augmented by a hot pinup girl. It also features classic poker iconography, including cards, chips, and Jack Daniels whiskey. 
You can buy these four-inch vinyl decals in 2-packs, 4-packs, 6-packs, or 12-packs. Each decal is UV-resistant, highly-reflective, and easy to see in the dark, adding to your vehicle's visibility at night.
21- 3dRose Ace of Spades Pillow Case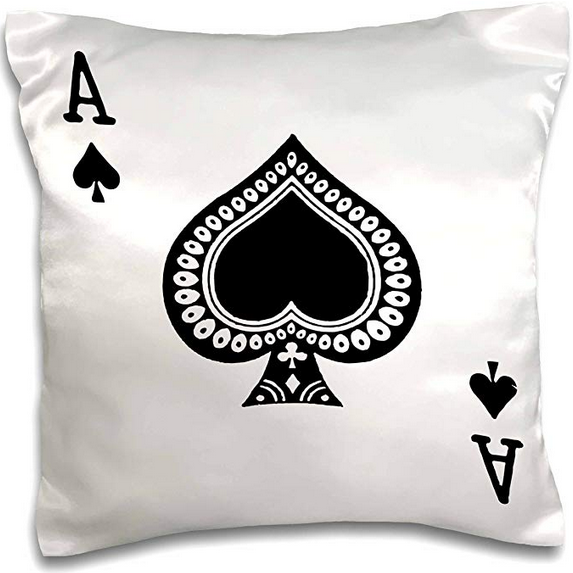 3dRose also puts its classic "Ace of Spades" design on a pillow case, allowing your recipient to add signifiers of his/her poker passion as home decor. This 16"x16" throw pillow case is made of durable, machine-washable satin and makes a truly classy addition to home decorating.
22- Claysmith Gaming The Mint Poker Chip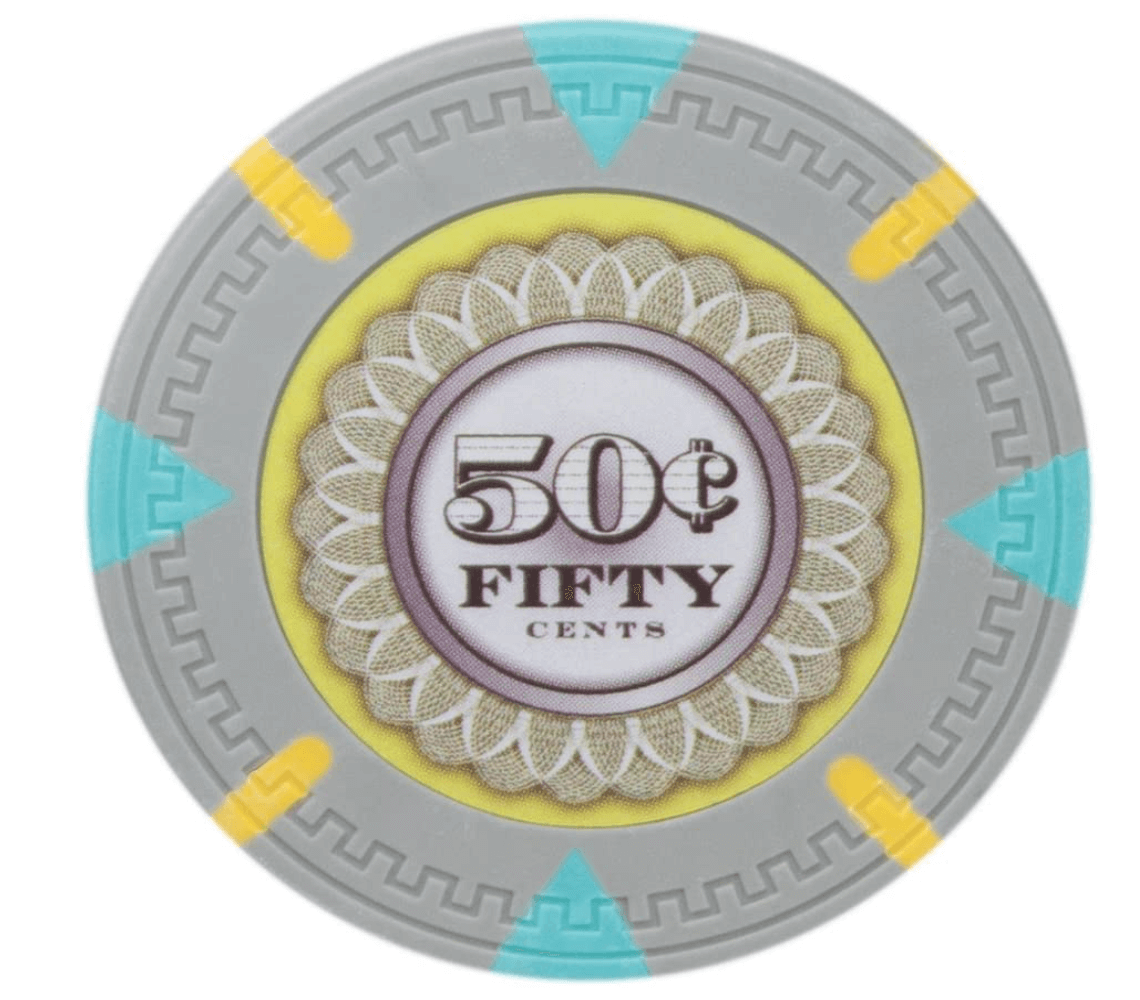 This cool poker chip set by Claysmith Gaming announces the value of each chip with a historic "greenback" US currency image, from $1 to $1,000. Yes, the US has issued $500 and $1,000 bills as legal tender! They feature images of Presidents McKinley and Cleveland, respectively. 
This set of 200 4-gram chips comes with two decks of History Chips playing cards, all contained in an attractive tin case that is easy to gift-wrap. 
23- Donkey Town Poker Apparel Poker Funny Saying Texas Hold Em Player Popsocket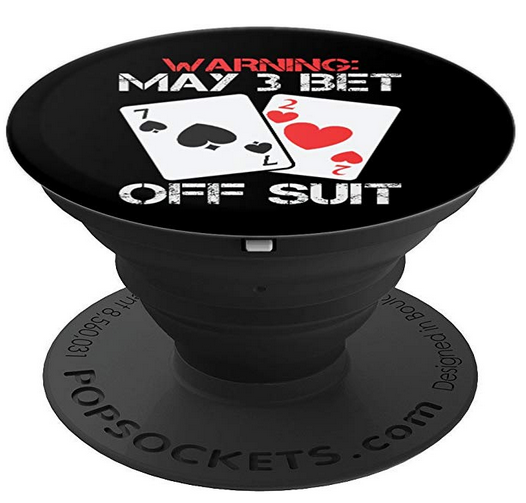 Popsockets for cell phones are all the rage, helping people keep their grips on their cell phones or propping them up for content viewing. This funny pop-stand by Donkey Town reads "Warning: May Bet Off Suit."
24- EAY ALI LI Luxury Waterproof 24K Gold Diamond Foil Poker Playing Cards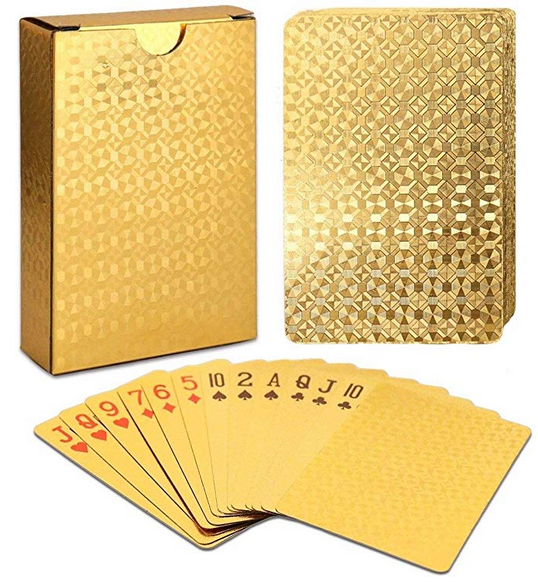 Want to really kick your gift recipient's playing card collection up to the next level? Give them the opportunity to show up at poker night with gold playing cards. Each card in this deck is plated with 24-karat gold foil and decorated in a diamond print for a truly luxurious impact. Waterproof, durable, flexible, and scratch-resistant, these playing cards look and feel like a million bucks.
EAY also makes playing card decks in black and silver, but come on … gold! Shockingly affordable, too. 
25- Pihappy Metal Souvenir Casino Poker Card Guard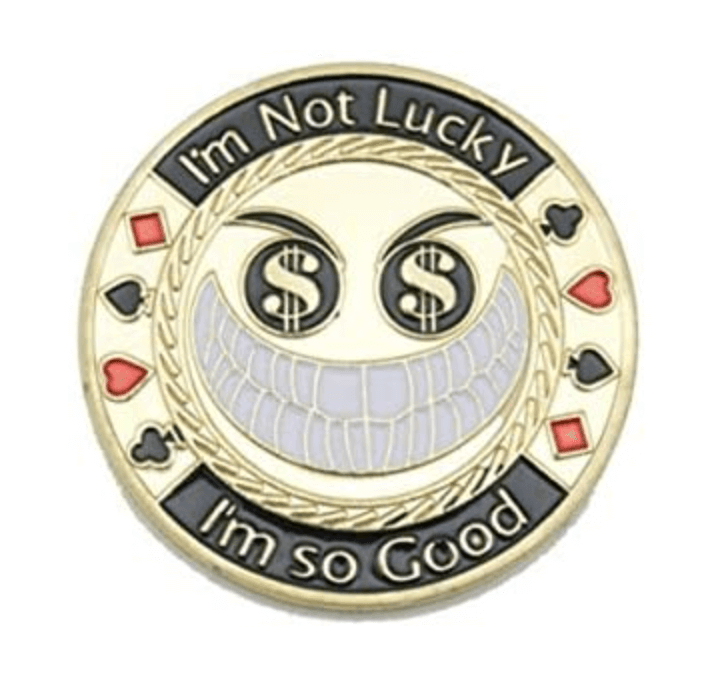 This aggressive metal card guard by Pihappy features playing card imagery, along with an engraving of a grinning skull and the legend "Casino Poker Guard—Ace and Eight." 
Indeed, the two cards featured on the card guard are the Ace of Spades, and the Eight of Spades—the exact cards Wild Bill Kickok was said to have been holding when he was shot dead at a poker game. Hence it's legacy as the "Casino Poker Guard." Impress your poker-playing gift recipient with that bit of poker trivia!
If your poker-playing friend or relative intends to "go pro," feel free to be excited for them … but take a minute to appreciate what they are about to go through. 
A handful of professional poker players live the rockstar lifestyle (just like a handful of musicians live the rockstar lifestyle). For the majority, however, it requires years of commitment and hard work before poker adds up to anything even resembling a stable income. 
Do your best to respect the journey they are embarking on. Here's what to expect when you're expecting a poker player in the family to turn pro:
Pro poker players set their own schedules. But this is a double-edged sword. Don't take it personally when they decline evening and weekend invitations because they are "working." You wouldn't get offended if someone with a 9-to-5 declined your Tuesday brunch invitation. Respect the poker players' boundaries. Professional poker playing takes hard work and discipline. If the spirit moves you, congratulate them on their commitment to the dream!
Pro poker players have a hard time maintaining a healthy lifestyle. The food available at casinos and poker halls is not exactly vegan. Moreover, in many poker cultures drinking and smoking are the norm, as is lack of sleep. Consider what you can do to help make it easier to stay healthy while in the poker lifestyle.
Pro poker players tend to hang with other poker players. They often genuinely like these new friends, on top of which it can be hard to find people who understand their passion and what they face in the transition to professional poker playing. Again, don't take it personally; keep inviting them to your non-poker events. They still need the people who were there for them before they found poker.
Once you understand the poker lifestyle a little better, you can ante up with the perfect gift for the poker player in your life.