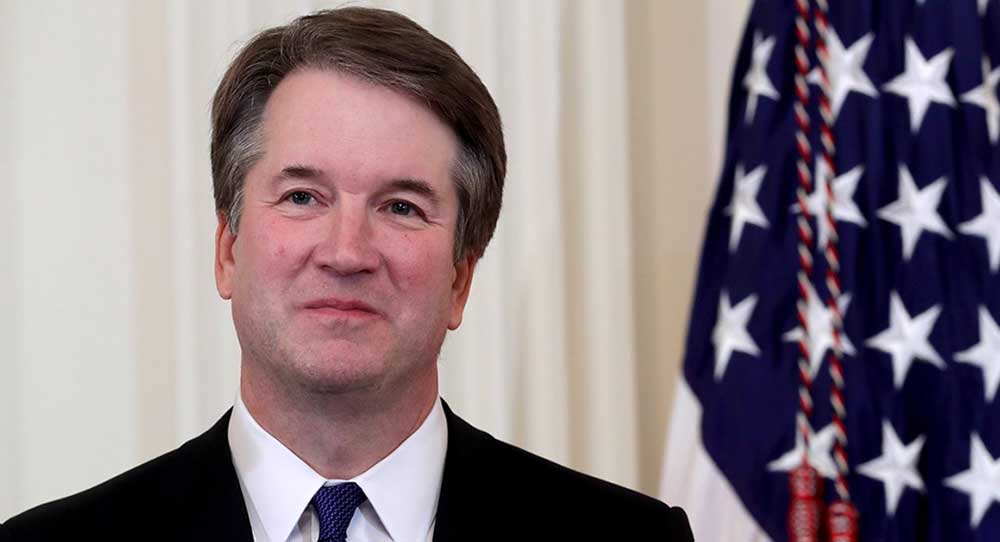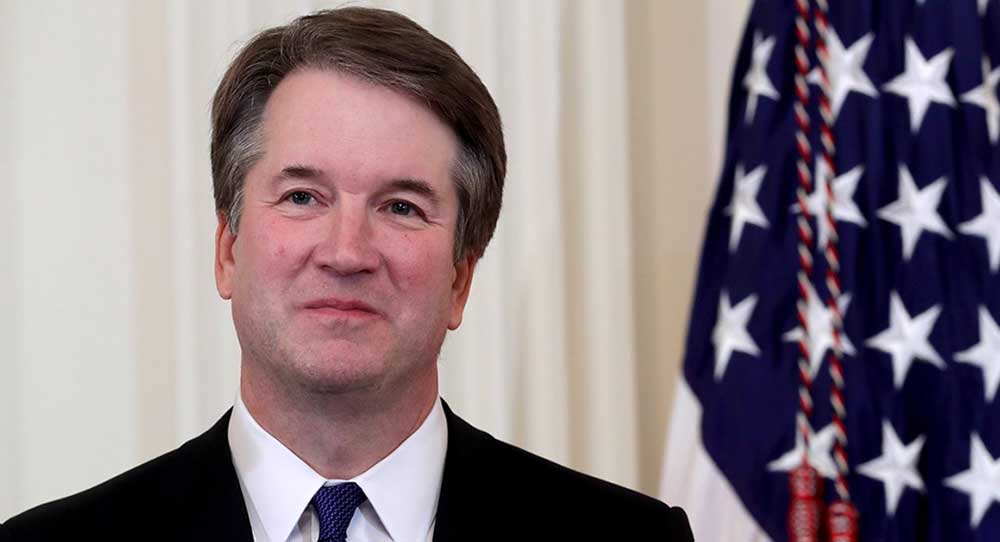 Unless you have been hiding under a rock, the chances are that you're aware of the gambling and debt controversy surrounding the nomination of the US Supreme Court justice Brett Kavanaugh.
Questions about Kavanaugh gambling habits and allegedly massive betting debts occupied the headlines for the better part of the fourth quarter of 2018, prior to his confirmation.
At an intense hearing session and in the media, the court justice's character and fitness for office were viciously questioned. Despite all these, however, Kavanagh gambling problem accusations were quashed and he was eventually confirmed to the Supreme Court.
Of course, the story hasn't exactly died down, even after his confirmation to the Supreme Court. Several factions and legislators, especially Democrats, still think Brett Kavanaugh isn't suitable for one of the highest offices in the country based on his history with sports betting and seemingly muddy financial track record.
The bigger question, however, is: was this a mere smear political campaign or does Kavanaugh have a history of gambling problems? In this article, we'll dissect into his history and statements towards gambling.
First up – Who is Brett Kavanaugh?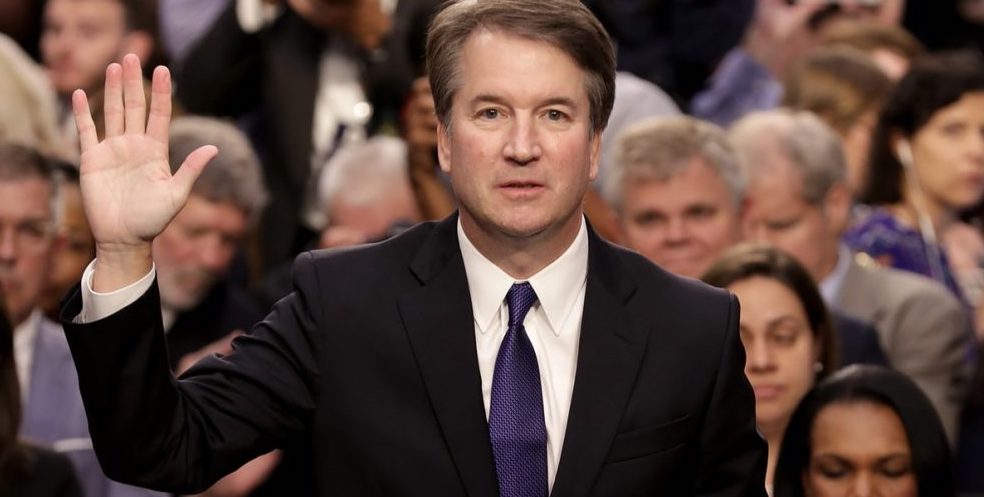 Brett Michael Kavanaugh is a court justice and currently a member of the United States Supreme Court. He was nominated to the position by President Donald Trump on July 9, 2019, replacing the outgoing justice Anthony Kennedy. Before his nomination, Kavanaugh had a long, colorful and storied career in the corridors of the US law and justice.
Justice Kavanaugh was born in 1965 in Washington, DC (or what's so-called Beltway), an only child to judge mother Martha Kavanaugh and cosmetic industry lobbyist father Everett Edward Kavanaugh. After graduating from Georgetown Preparatory School, he attended Yale University where he earned a Bachelor of Arts degree in History in 1987. He later attended Yale Law School where he graduated with a law degree (JD) in 1990.
In his first couple of years in the court system, he served a short stint as a clerk for the US Court of Appeals for the 3rd Circuit, Walter Stapleton, followed by another spell with Alex Kozinski of the 9th Circuit of the US Court of Appeals. In 1993, he joined the US solicitor general's office for a year, before becoming a clerk with Anthony Kennedy of the Supreme Court.
He was also active at the private law firm Kirkland & Ellis between 1997 and 1998. Of more significance is that Kavanaugh served under President George W. Bush as a US Court of Appeals judge for the Washington DC Circuit from 2001 to 2003. Perhaps noteworthy is that the justice played a key role in authoring Starr Report in 1998, which laid the ground for potential impeachment of then-President Bill Clinton.
On the educational front, Kavanaugh has been lecturing at Georgetown University Law Center since he joined the appeals court back in 2006. From 2008 to 2015, he also taught some courses at Harvard Law School, where he was recognized as a Samuel Williston Lecturer in 2009.
Kavanaugh Gambling History and Statements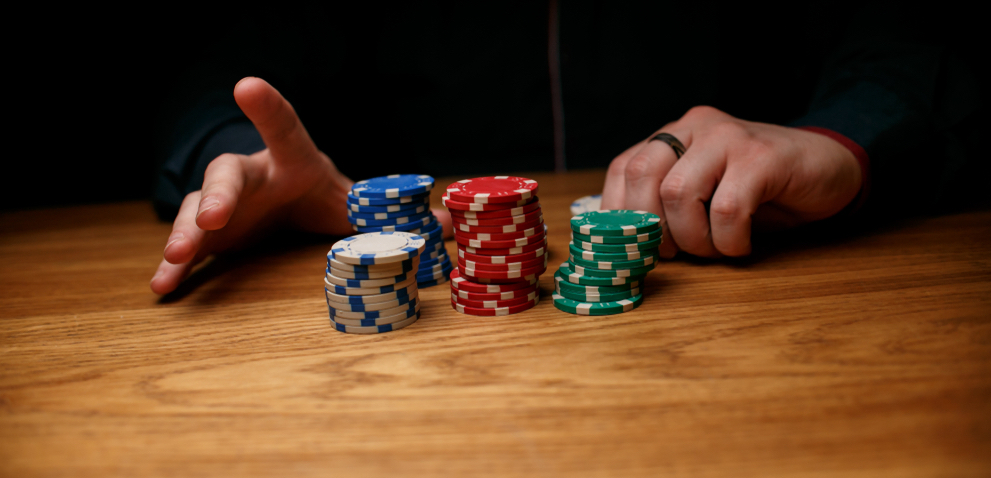 Brett Kavanaugh views on gambling, particularly sports betting are well-documented. In fact, during hearings prior to his confirmation, Democrats claimed that Kavanaugh past scholarship, opinions and statements on gambling make him ineligible for the Supreme Court position.
In the course of grilling by the Senate Judiciary Committee, he was given written questions, and here are some of his answers and statements on sports betting and gambling in general:
First, he was asked if he plays an occasional or regular poker game, as well as name the amounts lost/won, venues, participants and dates. In his reply, Kavanaugh admitted that he occasionally plays poker and "other games" with colleagues and friends, just like any other American. However, he didn't provide further details saying he didn't document any of the games.
In the second question, the committee wanted to know if the justice has ever incurred gambling debt or indeed gambled in New Jersey. To which he admitted to paying a visit a few times to some New Jersey casinos in his 20s and school years, where he occasionally played low-stakes poker. In addition, Kavanaugh said he has never accrued any debt from gambling.
Adding to his answer, Bill Burck revealed to the committee an email that Kavanaugh supposedly sent to his colleagues back in Sept 2001 about a "game of dice" while serving in the White House. Kavanaugh answered that the said game of dice was friendly, and didn't have any monetary bets or stakes attached to it.
He further explained that the 'fronts' and 'issues' he mentioned in the email in question were about his impending debut date with his now-spouse, Ashley Jean Estes. The key aim of the email was to tell his friends and colleagues not to let Ashley know of his interest in her.
When asked if he has ever sought intervention or treatment for problem gambling, Kavanaugh retorted with a resounding no. He also responded that he has never had any gambling losses debt discharged by a creditor in New Jersey.
That wasn't all. Whitehouse asked if the would-be justice had incurred or reported any gambling debt or earnings. His answer was also a straight no. The senator from Rhode Island also inquired whether Kavanaugh gambled in any way from 2000 to date. The associated justice replied with a simple no in his written response.
The panelists also inquired about his massive credit card debt he accrued in the years leading up to his nomination. In specific, Kavanaugh IRS report showed that he reported between $60,000 and $200,000 in personal loan and credit card debts in 2016 alone.
In his defense, the associate justice of the US Supreme court indicated that dollar amount disclosed was far lower than other thirteen financial disclosures he listed. Furthermore, he claimed that the vast majority of the said debt resulted from spending on sports season tickets to the Nationals and some home renovations.
Whether the hefty credit card debts were due to Kavanaugh gambling habits was and still remains a legitimate question. Even after giving his account that he paid for his friends' season tickets, Whitehouse still asked questions if Kavanaugh has a gambling problem. In fact, he wondered how a whole justice could rack up 6-figures in credit card debt for just baseball tickets.
There was also the question of how he managed to clear such an enormous debt before the next IRS reporting period. More specifically, Sheldon Whitehouse and his colleagues wanted to know why Kavanaugh was exempted from declaring some financial "gifts". In his response, Kavanaugh said that his family (he and his spouse) were gifted financial gifts by relatives, which are technically not required by law to be reported.
A Huge Sports Fan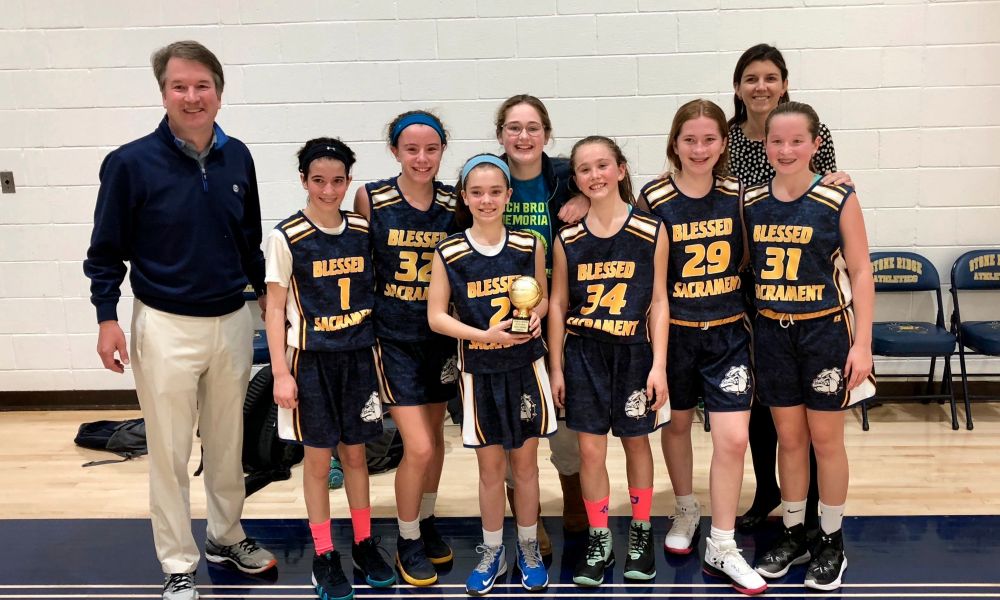 At one time during the questioning, Kavanaugh christened himself a "huge" fan of sports. Which begs the question: is he a big sports fan or a problem gambler? That's exactly what the committee wanted to find out.
According to him, his love for sports is the reason why he didn't mind buying several season tickets to Washington Nationals baseball matches. He says he loves the Nationals so much so that he bought 4 season tickets for himself and his friends in his name for 12 years in a row, from 2005 through 2017.
Additionally, he also bought playoff tickets for the 4 times that the Nationals qualified for the playoffs – namely 2017, 2016, 2014 and 2012. He ended up attending eleven home playoff games of the Nationals, as well as some regular-season matches. The interesting part is that he paid for his old friends who attended the National's games together.
To clear up Kavanaugh gambling accusations, he said that each friend he paid the seasons tickets for repaid the money down to the dollar.
"No one overpaid or underpaid me for tickets. No loans were given in either direction," asserted Brett Kavanaugh.
Is Kavanaugh Gambling a Big Deal?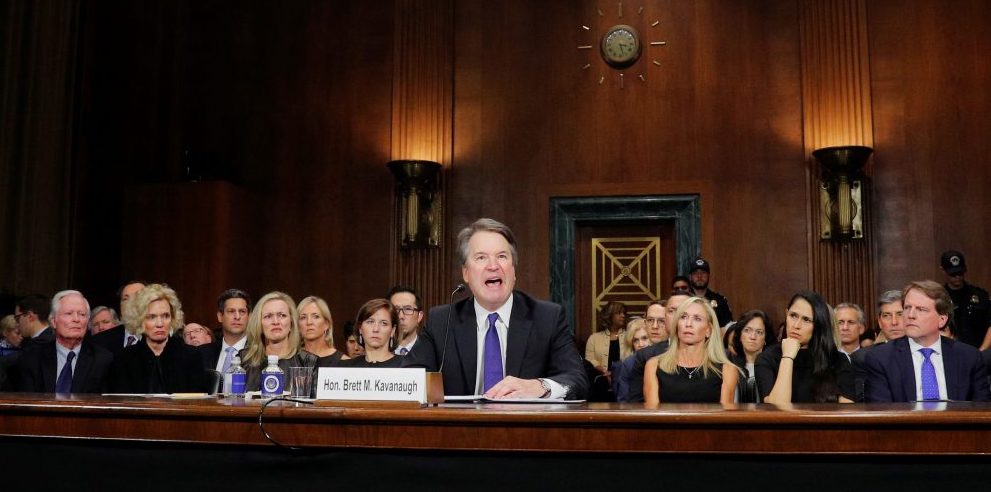 Whether Kavanaugh has a gambling issue or not is still a subject of debate. However, he would hardly be the first court justice or even the first member of the US Supreme Court to partake in gambling.
Take, for example, William Rehnquist the former Chief Justice who served for more than three decades on the US Supreme Court. According to one Washington Post journalist, the former Chief Justice was a "small-time" gambler. He was notorious for wagering on almost every bet, from presidential elections to NCAA baseball games. Funny enough, there are claims that he participated in a small poker game in the Senate building with his clerks.
What Does Kavanaugh Gambling Admission Mean for Poker?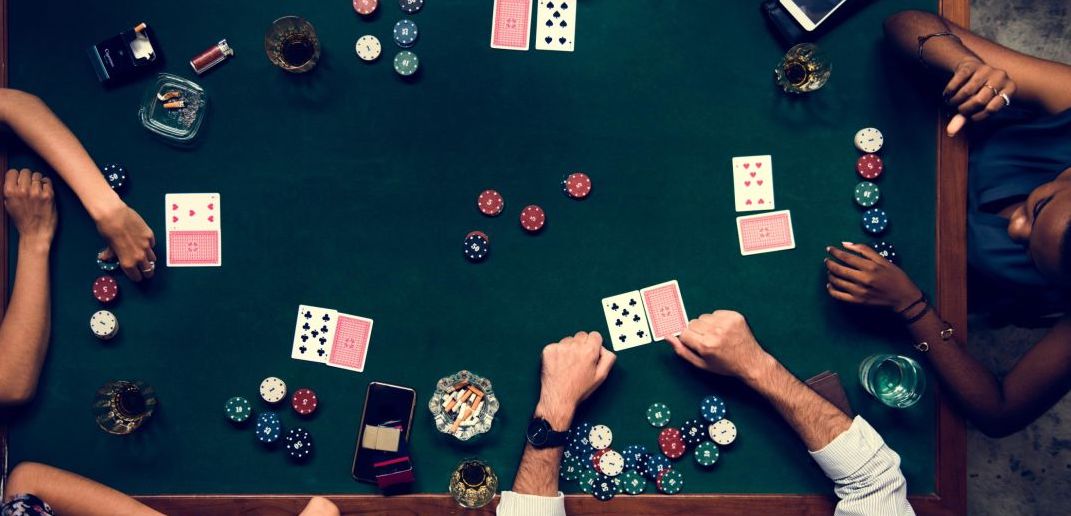 After being asked if he has ever gambled in the state of New Jersey, Kavanaugh responded that he indeed entered NJ casinos back in his college years. However, he stated that he only wagered on low-value poker games. This in and of itself elevates the reputation of poker as a game of choice for people with integrity.
Interestingly, a number of past rulings have revealed that US judges are pro-poker. For instance, in 2012, a judge in New York ruled that running a poker room doesn't amount a gambling business.
Three years earlier, another judge in the state of Pennsylvania corroborated this, ruling that Texas Hold ém is more of a game of skill rather than chance. With Associate Justice Brett Kavanaugh in the office, it's only a matter of time before poker is associated with him.
3 Talking Points: Things you probably didn't know about Brett Kavanaugh
(1) He Was Raised and Schooled Catholic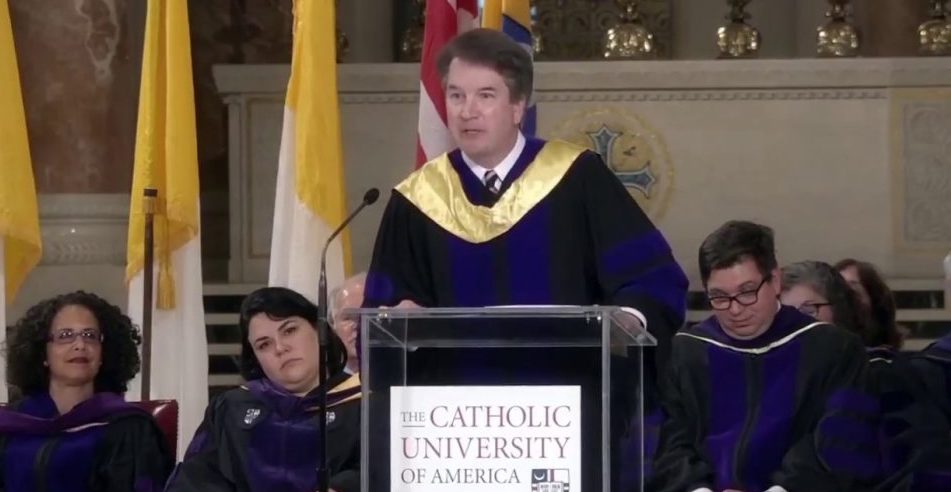 We all know that Catholics, or Christians for that matter, aren't big fans of gambling. The SCOTUS does not hide the fact that he is a Catholic and often takes the position of lector in his local Catholic Church in Washington, DC. He also schooled Catholic in elementary school and later attended Georgetown Preparatory School, a well-known Jesuit boarding academic center.
Even in his volunteer life, Kavanaugh has always focused his efforts on Catholic initiatives. More specifically, he's known to serve meals as a volunteer with St. Maria's Meals program. He has previously taught at JO Wilson Elementary School and Washington Jesuit Academy, two DC schools with strong Catholic ties.
(2) He Chaired a Federalist Group in the 1990s
As a private practice lawyer, Kavanaugh served as the chairman of the Religious Liberties Practice Group. In fact, as the chair, he sponsored two amicus briefs (a fancy legal term for technical proposal) for the Supreme Court to support the causes of religious liberty. The Federalist Group in question has a mission to lobby for the legal system to give priority to the rule of law, traditional values, and individual liberty.
(3) He has Chevy Chase Club membership
When it comes to questioning Kavanaugh's gambling ties, financial matters was the first thing the committee looked at. That's why they also question how he could afford Chevy Chase Club membership, which has annual dues of close to $10,000 and an initiation fee of a whopping $92,000. It boasts a state of the art clubhouse facility, where members have historically indulged in games of golf, tennis, and sometimes poker.
Wrap-Up
Many instances and incidents may have encouraged legislators and other stakeholders to be worried that SCOTUS Brett Kavanaugh may have a problem handling his finances. Before he was confirmed to the second-highest office in the US judicial system, some factions were led to believe that Kavanaugh might have a gambling problem.
Of course, several things led to this speculation. It's perhaps the 2001 email he wrote to his colleagues for becoming "aggressive after blowing" yet another dice game. This email was sent after a weekend trip.
Then there's the seemingly inexplicable massive debt he charged to his bank accounts and credit cards. Although he claimed that he used his credit cards to pay for Washington DC Nationals baseball season tickets, the size of the debt is still questionable.
It's highly likely that Kavanaugh indulged in gambling, which he stated he wagered on low-stakes poker while in school and his 20s. He said, however, that he has not gambled with money or any accrued gambling debts since the year 2000.